Market limbo
Tension is in the air as China has announced new COVID-19 restriction around Beijing, following a number of new infections in the Chinese capital. Germany has also announced that the ongoing lockdown in Europe's largest economy could last until April.
Markets have been relatively muted during the U.S. trading session as they await a clear catalyst to breakout from their respective daily ranges. The U.S. dollar index has threatened to breakout to the upside on numerous occasions but has so far failed to follow through.
The EURUSD pair is worth paying attention to as a breakout below the 1.2130 support level could trigger heavy technical selling. With 10-year yields in the United States continuing to creep higher markets will be focused on the 10-year bond auction later today.
Just a heads up, European Central Bank President Christine Lagarde is set to speak in the morning so euro traders may be cautious about being overly positioned ahead of her latest comments.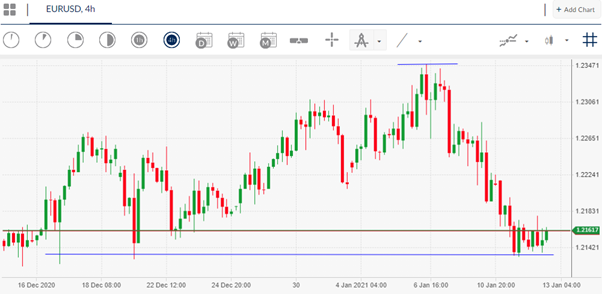 Sterling has had a run above the 1.3600 level, potentially prompted by comments from the Bank of England that negative interest rates "could cause all sorts of problems". Technical resistance for sterling is found at the 1.3670 and 1.3700 levels, while downside support comes in at 1.3580 and 1.3500.
Federal Reserve member Bostic has said that the US economy may see a rebalance in prices that is stronger than expected. This is being taken as mildly bullish for the greenback, given the recent chatter about FED tapering QE.
Stock markets are basically range bound ahead of earnings season. Expectations are set fairly low so any beats to the upside this week could give the S&P 500 and the Dow Jones Industrial Average a boost.
The FTSE 100 is currently being weighed down by strength in the British pound and fears over tighter lockdown restriction in the United Kingdom. The German DAX is basically flat on the day as traders asses the COVID-19 news.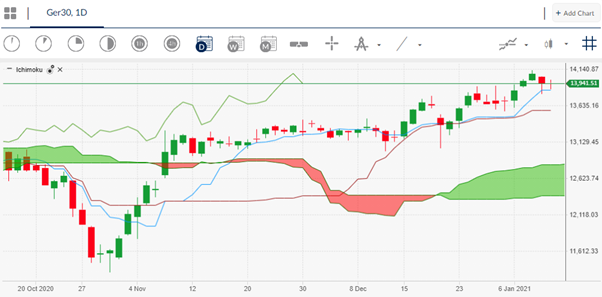 Please keep in mind that the Ger30 and CAC40 could take a heavy hit if China announces more COVID-19 infections inside more of the countries many provinces. Both Germany and France are heavily manufacturing reliant, particularly the automobile sector.
President Trump is set to speak in Texas later today, with many analysts expecting a hard-hitting speech over the President's recent ban on Twitter. Markets will also be waiting for a potential announcement which social media platform he will join, and the potential impeachment charges.