The Nikkei 225 trades around all-time highs, as bullish sentiment towards Japanese blue-chip companies and U.S. stimulus hopes has helped to boost the Japanese index to unprecedented new levels.
Nikkei 225 manufacturers may also be in for a pleasant surprise if the Japanese yen currency starts to weaken against the US dollar, following a steep rise in the value of the US dollar index since last week.
Indeed, the recent rise in the U.S. 10-year yield bodes well for the greenback and could potentially push the USD/JPY pair into a higher trading range, following months of Japanese yen strength.
With the Japanese index is reaching price discovery around all-time highs, traders are naturally looking technical pullbacks to enter the well-established bull trend, which really started to take-off in November last year.
Fears over the new COVID-19 mutation arriving in Japan could hurt the index in the short-term and cause a brief pullback. Additionally, profit taking could cause the index to move lower as traders weigh-up the risks of being exposed to pullbacks as the negative COVID-19 news drops.
News surrounding a potential Japanese national lockdown could also cause a short-term correction in the Nikkei 225 index. Typically, the currency market has been more vulnerable to negative reactions when national lockdowns have been announced.
Something else to watch will be how the Nikkei 225 reacts to the proposed US stimulus package being announced this week. It could very provide the bullish catalyst to send the index above the benchmark 30,000 level.
Nikkei 225 Short-Term Technical Analysis
The four-hour time frame shows that a large price gap is evident around the 27,450 level and may be an area that the market will look to gravitate to on a pullback.
The 27,450 technical is also an important area on the lower time frames because it marks a key former breakout area from a triangle pattern last week.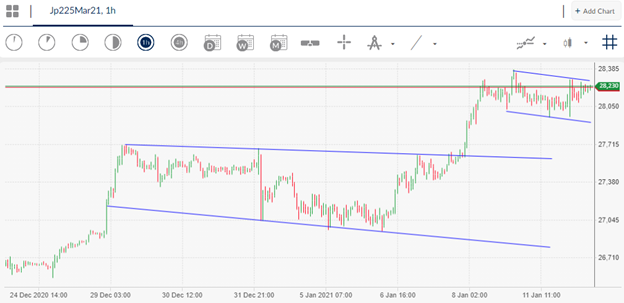 Below the 27,450 level the 26,400 level offers major support. If a breakout below this area takes place then the Nikkei could capitulate towards the 25,550 area.
Nikkei 225 Medium-Term Technical Analysis
Looking at the daily time chart, an extremely large bullish reversal pattern was activated in November last year, hence the blockbuster rally in the index, and overall technical bullishness towards the index.
According to the size of the bullish pattern, the Nikkei 225 could rally towards the 32,400 level over the medium to long-term horizon.
Traders should note that the neckline for the bullish pattern is located around the 24,400 area. This may seem like an extreme scenario, but any pullbacks towards this area from current levels could be a major buying opportunity.