The Chinese economy is set to come back into the spotlight next week as the second-largest economy releases retail sales, industrial production, and fourth-quarter Gross Domestic Product figures. The People's Bank of China is also scheduled to deliver an interest rate decision on Wednesday.
Looking at China's fourth-quarter GDP first, most economists are expecting that Chinese growth increased at a pace of 3.1 percent in Q4, and 6.1 percent on a year-on-year basis during the fourth quarter. According to figures from the World Bank the Chinese economy is set for more growth this year and is expected to expand by 7.1 percent.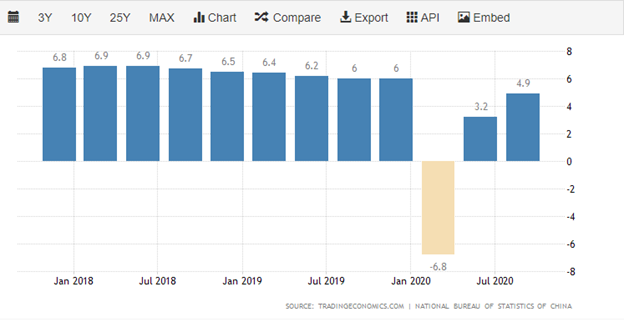 UBS has also put out a note stating that growth for fixed-asset investment and exports, the two other major drivers of Chinese economic development, is forecast to be at 4 to 5 percent this year.
Looking at the PBOC interest rate decision no major changes are expected to the current rate of interest, which is currently set at 3.85 percent. The People's Bank of China announced 20 billion yuan in reverse repo operations just before the end of last year, which included 20 billion yuan in 7-day reverse repos, with a rate of 2.2 percent.
UBS have recently noted that in terms of macro policy, they expect that PBOC stimulus will be gradually phased out later this year and the Chinese government will place a higher priority on controlling risks and lowering the leverage ratio.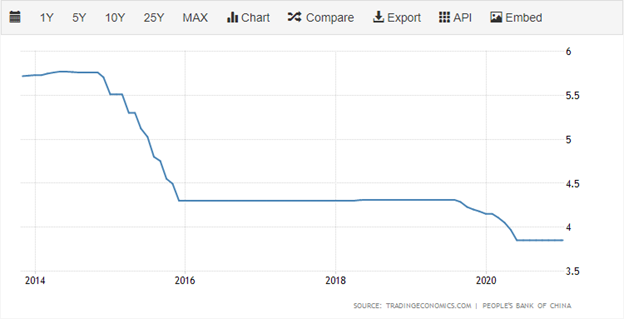 Chinese retail sales are expected to have expanded by 5.5 percent last month, which is a beat in terms of the November figures. Industrial production is expected to come in at around 6.8 percent, slightly down on the 7.0 percent number.
Markets appear optimistic that the Biden administration will ease tensions with China over the long-run and believe that the Sino-US relationship will be on friendlier terms that under the Trump administration.
UBS remain sceptical about the prospect of the Biden administration stopping the ongoing tariffs on Chinese goods. They also noted that the status quo in government is likely to be curb the rise of Chinese technology companies.
Traders and investors are high focused on the Chinese growth story at the moment and do not believe that the rising number of COVID-19 infections in China will turn into another pandemic, due to the believe that the government have the situation under control, and new vaccine will stem of a prolonged contagion.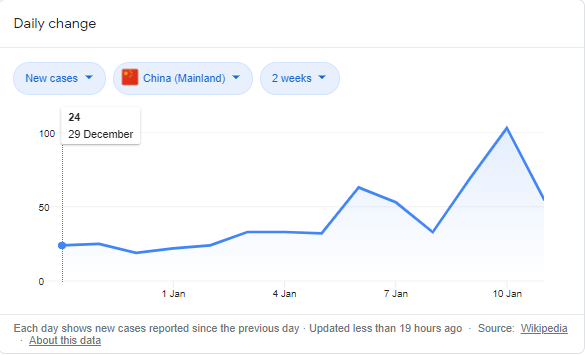 Recent data from Brazil has shown that China's COVID-19 vaccine only has a 50 percent rate of success. However, markets appear to believe this enough to curb another situation like we saw last year in Wuhan.
The major downside risk for Chinese and global growth this year would be a significant rise in COVID-19 cases in China, which could cause many provinces to go into lockdown, and dent the economic prospect of China in 2021, which is still be referred to as the factory work floor of the world.
Watch out major reactions in Chinese stocks and the Australian dollar when these key data points are released. The AUD/USD pair is trading around multi-year highs and is partly being supported by the ongoing China growth narrative.