The UK 100 is coming under increasing pressure as rising bond yields in the United States and globally spook market participants and have caused equity markets to sell-off with US tech-related stocks suffering the brunt of the selling.
Thursday's sell-off in stocks accelerate the downside in the UK100, which has once again found solid support from just below the 6,600-support level, as traders continue to buy the dip.
Energy and COVID-19 stocks have been the darling of the FTSE 100 index lately, as the oil price surge encouraged traders to move into energy stocks. Additionally, pharmaceutical stocks remain in favour with investors. The successful roll-out of the COVID-19 vaccine has been extremely bullish for pharma giants such as Johnson&Johnson and Pfizer.
Downside risks still remain for the FTSE 100 as the leading UK index tends to catch a cold if US stocks start to sell-off. The United States is a major trading partner of the United Kingdom, and the economies are closely tied together.
It is fair to say that the UK 100 is packed with mining stocks as well, which stand to gain from the reflation trade as industrial metals perform very well when commodity prices are surging due to bullishness towards the global economy.
Going forward, I believe that the FTSE 100 could do better than US stocks, however, we probably need to see the sentiment towards US stocks, and indeed the sell-off start to neutralize in order for the FTSE 100 to build the type of upside momentum that was seen during the first month of this year when the FTSE 100 rallied towards the 7,000 level.
UK100 Sentiment Analysis

The Market Sentiment indicator on the ActivTrader platform currently shows that some 87 percent of traders are bullish towards the FTSE100 right now. Bulls are increasingly on the wrong side of the trade.
This is an extremely large one-way basis, and I have concerns that a new short-term bearish trend may be forming. Watch out for further heavy losses in the UK100 if this sentiment extreme remains in place.
UK100 Technical Analysis
The four-hour time frame shows that the FTSE 100 has broken above a bullish falling broadening descending wedge pattern, however, the breakout is unravelling, and the price is now falling back towards the wedge.
If we see the FTSE 100 falling back inside the wedge we should expect a reversal towards the 6,000 and possibly the 5,615 level. On the flip-side, watch out for a recovery back towards the 6,770 area if the 6,300 level remains well-defended.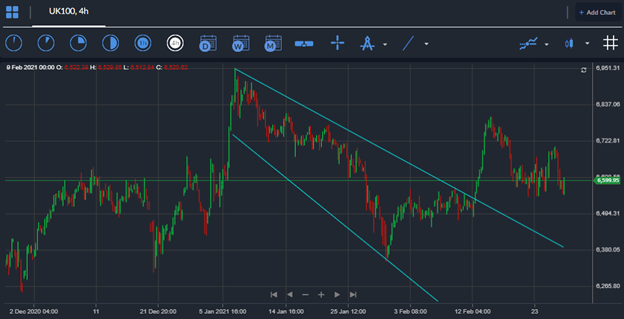 Higher time frame analysis shows that a large head and shoulders pattern could be developing. A major decline towards the 6,245 level is needed to form the pattern.
Traders should note that the index's 200-day moving average is located around the neckline of the potential bearish pattern, around the 6,245 level.