Morning Brief: 07/04/2021
Falling bond yields are continuing to drive the moves in financial markets, as traders and investors factor in a goldilocks scenario, meaning an increasingly strong US economy plus continued support from the Federal Reserve.
Another major beat in the JOLTS Job opening release from the US economy yesterday perpetuated the notion that the American economy is firing on all cylinders on the jobs front right now.
The US dollar index is currently testing towards its trend defining 200-day moving average. This looks to be the main technical metric that foreign exchange traders are looking at right now in deciding whether the move lower in the greenback has validity or not.
Today's release of the FOMC meeting minutes looks set to be significant, especially if the central bank lay out their intention to keep the so-called "FED put" in place, which should underpin strength in US stocks, and keep yields under wraps.
During the Asian session, the USDJPY pair succumbed to selling pressure and dropped towards the 109.60 support level. The 109.90 level appears to be the major weekly pivot for the pair.
Looking at the EURUSD, stops are likely to be taken out if the pair takes out the 1.1880 level today. Bulls are currently pressing towards the EURUSD pairs 200-day moving average, similar to the US dollar index.
The EURGBP pair is remaining bid as the EURUSD pair surges while sterling keeps under pressure. The trend in this traditional slow-moving cross is still bearish, so a big reversal could take at any time.
WTI oil is remaining well-supported after the API stock report from the US showed a decline of more than 2 million barrels. The EIA report is out later today. It should be noted that WTI is still struggling to regain the $60.00 benchmark level.
Bitcoin has recovered back above the $58,000 level are briefly dropping towards the $57,000 support level this morning. Social mentions for "Buy BTC" hit a three-week trading high yesterday.
Data Watch
The economic calendar in the European session is dominated by final PMI services readings from a number of top tiers eurozone economies. These releases are not expected to be a market mover for the euro and EU stocks.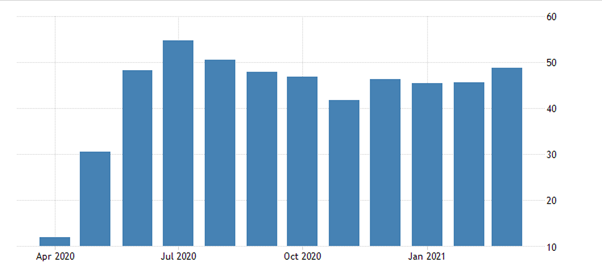 During the United States trading session the release of the FOMC meeting minutes is the main event today. The FED will have to come out with a dovish tone to keep the "FED put" in the market.
Should the Federal Reserve come out with a more hawkish tone than expected, traders should beware, because the ongoing selling of the greenback and up move in stocks could quickly reverse.