Duke Energy (DUK.US) is one of America's largest energy holding companies, with a focus on cleaner energy and natural gas infrastructure.
The company is a top US renewable energy provider using solar and wind combined with other renewables to generate a capacity of 8,000 megawatts. Their market cap is $66.9billion, with operating revenue of $25.1billion.
Public and political discourse around clean energy and reducing Carbon emissions is driving a new thought process through the minds of our leading politicians and company directors alike. The race for a cleaner environment and a new way of doing things post the COVID-19 pandemic has been put forward by the World Economic Forum and is backed by the advent of new technologies.
During the US presidential election campaign President Elect Biden said that he would not pursue a 'Green New Deal' (GND) but did go as far as to lay out his own $2trillion plan for the fight against climate change. The basic principles of the 'Green New Deal' were outlined more than a decade ago in response to the 2008 Great Financial Crash and the GND is likely to be a framework but not necessarily the mandate of the new US administration. With this in mind there is scope for progress to be made in sourcing 100% of the country's electrical needs from renewable and zero emission power.  That would include upgrading to smart power grids, creating high-wage jobs in the green economy, upgrading buildings and overhauling transport infrastructure. 
Tesla (TSLA.US) has been a driving force for change and the Electronic Vehicle (EV) market is set to disrupt the transportation sector more as governments around the world phase out petrol and diesel cars in favour of electric motors, in some cases by as early as 2030. With Duke Energy providing the necessary infrastructure to allow EV's to charge through their 'Fast Charging' and 'Residential EV Charging' programmes the company is in a good place to benefit from the $trillions set to be injected into these markets.
Duke Energy back in October 2020 stated that it is to expand the electric vehicle charging in the state of South Carolina to keep up with the demand in new electric vehicles and as an example the company itself will transition a majority of its fleet of vehicles to electric and hybrid technologies by 2030.
The price action on the monthly charts shows a steady incline towards the 100.00 level, with Novembers high of 98.80 proving to be near term significant resistance.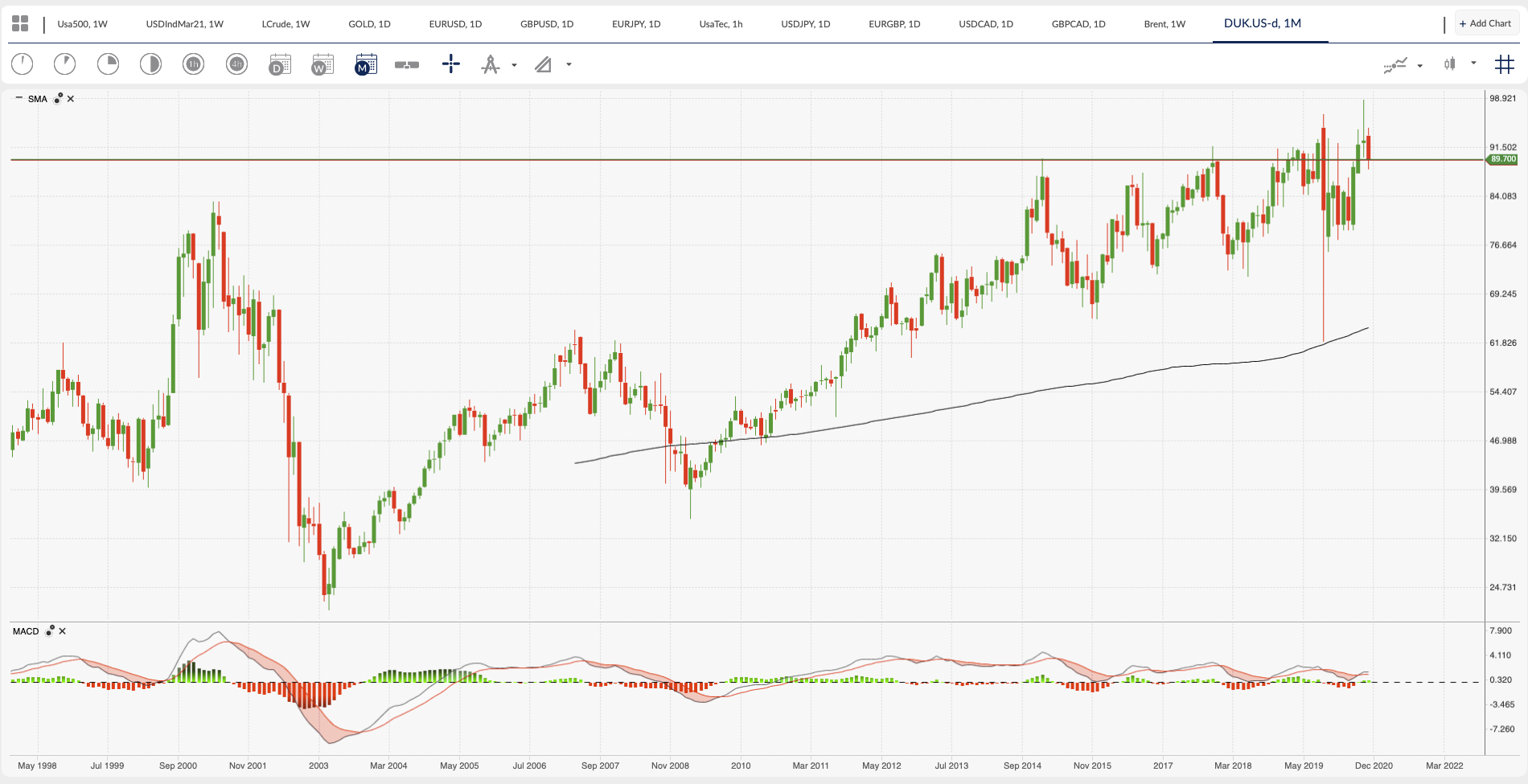 On the daily chart some traders may have been hoping for a breakdown of a head and shoulders pattern, but the recent days show that it is very possible that the higher close on Christmas eve could be the start of a new uptrend as price actions begins to trade and form a base around previous balanced market levels.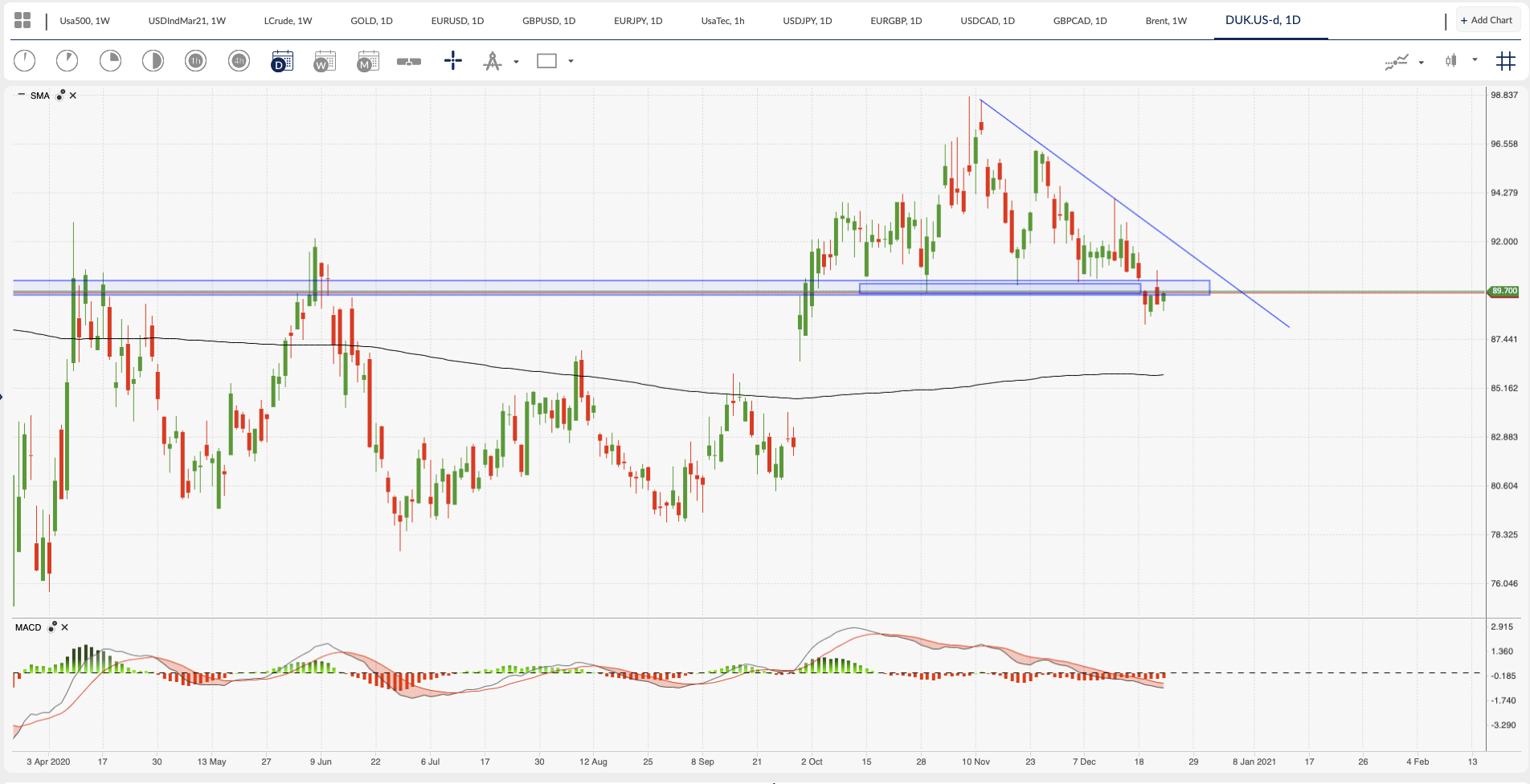 If DUK.US can close above 90.68 the next form of resistance will come from the sloping trend line that is drawn between the November and recent swing highs.  With the Daily 200 sma acting as significant support around the 85.00 level. 
Last Thursday's price action put Duke Energy in the top 50 of S&P100 (Mega-Cap) movers and with more news to come out around Apple (AAPL.US) and their proposed EV due, the whole EV and EV infrastructure market could be ready to really pop in 2021. Globally EV sales are estimated to grow 50% or more in 2021, with unit sales rising from 1.4 million in 2020 to 6.9 million by 2025.
Closer to the UK, we have Siemens AG (SIE.GE) who are across the electric vehicle ecosystem providing energy, technology, driving and industrial solutions.  The firm like many others suffered losses due to the covid-19 pandemic and has recently been in the news around the possibility of selling off parts of the company.
Technically SIE.GE on the charts look very bullish with the current price of 118.740 being very close to the 2020 highs from the summer.  The bullish momentum in the price action and within the MACD could be about to signal a fresh attempt at trading towards the all-time highs printed in the spring of 2017.  Today's gap up on the open is a very bullish, with first resistance at 120.60 and significant support from the daily 200 sma down around the 102.50 level.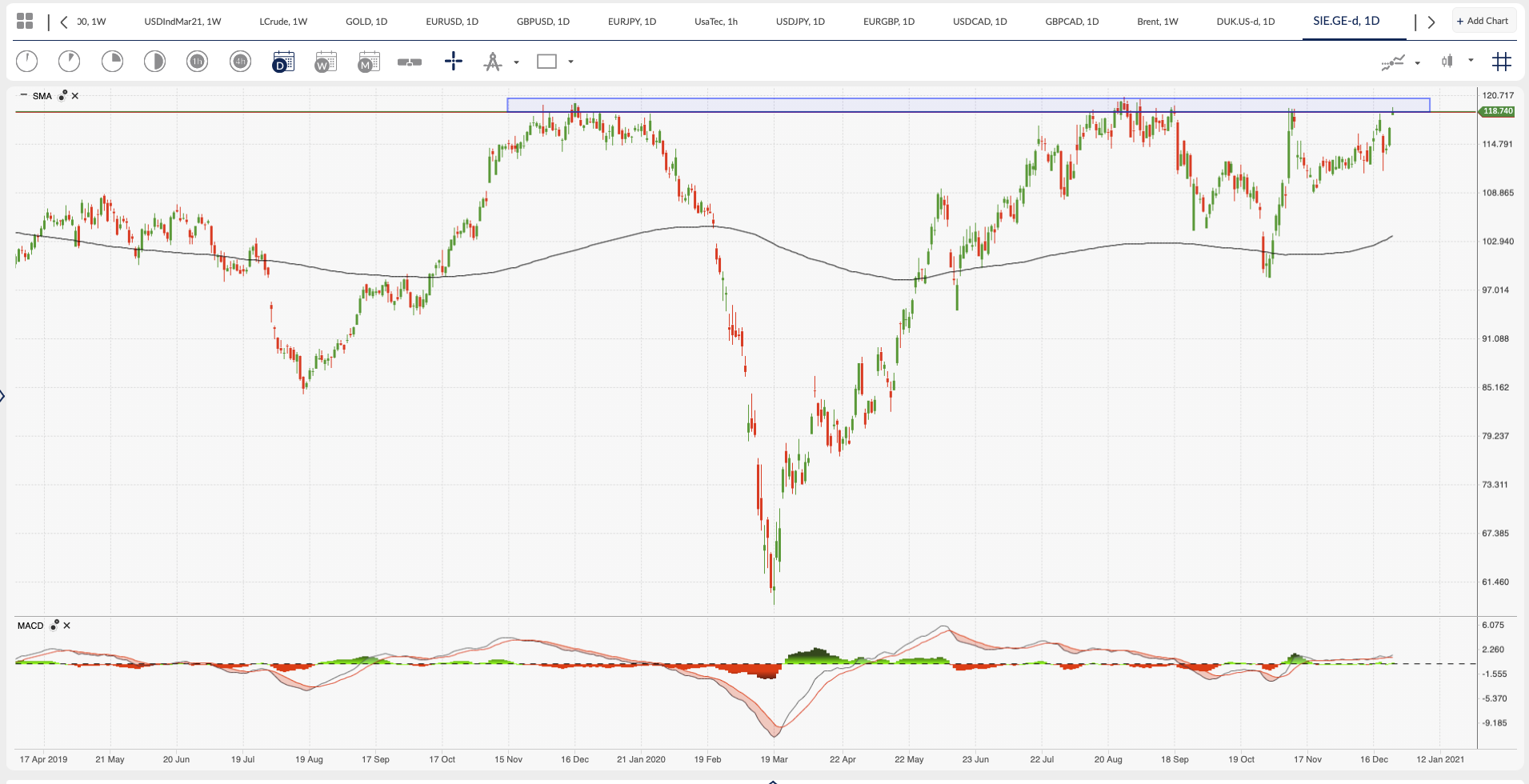 With EV's comes the need for physical charging infrastructure and the need for batteries. Samsung is a leading European EV battery maker, who back in 2018 converted a plasma display factory into an EV battery plant. The latest estimates have their production of cells running at 18 million per month. They supply batteries to BMW (BMW.GE), Volkswagen (VOW3.DE) and Volvo trucks. 
Tesla (TSLA.US) is again a disrupter, this time in the battery space, and they have their Gigafactory just outside Berlin. Next year should see this factory come on-line and it will produce cells for the Model 3 and Model Y which should see them ship 500,000 cars annually. Tesla's exponential stock price is currently at 661.72 and although the MACD is signalling a potential divergence to price, the price action and momentum look favourable for the Tesla bulls into 2021.