The United States Non-farm Payrolls job report for the month of March came in much better than most economists had been predicting, marking the strongest US monthly jobs figure since August last year.
So far, the market reaction to the blockbuster jobs report has been rather muted due to razor thin market conditions on Bank Holiday Friday, although futures are called to open higher across the board. Many traders in the United States and across the globe will be away from their desks until Tuesday.
Therefore it could be said that the true market reaction to the number will not be known until next week. However, we do know that the US economic data points have been on fire this week, with the ISM manufacturing report coming in a thirty-seven-year high yesterday.
Additionally, US stock markets are cheering the strong data alongside the bond market, which could indicate that the market is expecting that the Federal Reserve will look past the strong data set this month and continue to keep rates low and continue pushing more QE into the economy.
Headline Number
Market participants had been expecting a 468,000 number today, instead, they got nearly double what they had been hoping for as the March headline reading came in at an incredibly strong 916,000.
Such a strong number was not entirely expected, which could mean that the market has some repricing to do next week, which in turn could lead to some market volatility, and also some big-time quarterly positioning, and indeed repositioning.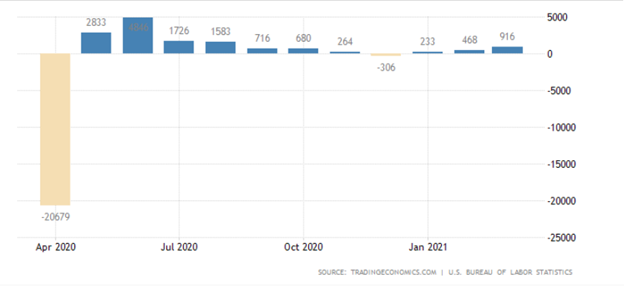 Unemployment Rate
The US unemployment rate came in as expected, at 6 percent today. This is still a major positive for the market as the US unemployment rate has clearly been trending lower since April last year, which was basically the height of the pandemic.
Traders and investors have few reasons to be bearish towards the US jobs situation right now, especially since the Biden administration plans to implement a massive $2.3 trillion infrastructure spending bill.
Wages
Traders looking for negatives inside the report may look at average hour wage earnings. The number came in softer than expected. This could because more people were looking to enter the jobs market, hence employers have more choice.
Inflation has been something that has yet to show up in the market, and this could be a reason why the bond market, and the stock market are currently reacting in a positive fashion. The FED are certainly not concerned about inflation right now.