Morning Brief: 06/04/2021
The US dollar index is under pressure on Tuesday as risk-on market sentiment is causing US Treasury yields to drop, which in turn is provoking traders to move into riskier asset classes, and indeed riskier currencies.
Data on Monday showed that the March ISM non-manufacturing index rebounded to 63.7, which was the highest in the survey's history, and a major increase on the February headline number, of 55.3.
Major beats in US economic data points over recent days is effectively helping to put forth the notion that the United States economy is firing on all cylinders, and this is causing stocks in the US to hit new all-time highs.
In terms of the currencies gaining against the greenback Tuesday, the move is broad based. The euro, British pound, New Zealand, Swiss Franc, Canadian dollar, and Japanese yen are all on the rise against the buck.
The Australian dollar is also gaining, however, the pace of gains in the Aussie has slowed, due to the Reserve Bank of Australia interest rate decision earlier today. The RBA kept rates unchanged at 0.10% and struck a slightly more hawkish tone.
RBA members also kept bond purchases unchanged and noted that "the recovery remains well underway". The central bank also reaffirmed its commitment to act if the Australian economy undergoes any unfavourable downturn.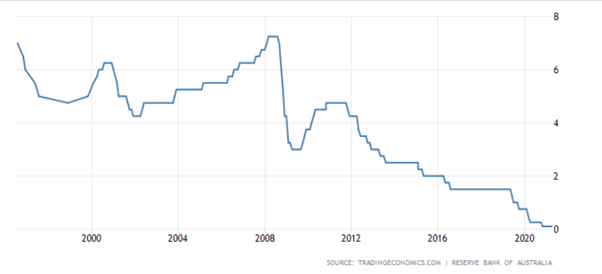 Copper prices have come down slightly after yesterday's four percent pump higher over fears about copper supply in Chile. Rising South American COVID-19 infections is also affecting the price of crude oil today.
Bitcoin is under slight pressure on the cryptocurrency market as the pioneer crypto fails to crack the $60,000 level. Bitcoin's market dominance has been declining over recent days as other altcoins, such as Ripple, and Ethereum, continue to significantly outpace Bitcoin in terms of gains.
Data Watch
The economic calendar in the European session is fairly busy today, with Swiss National Bank total deposit data coming out, and the release of the eurozone official unemployment rate. The Sentix investor confidence survey from the eurozone is also set for release this morning.
During the United States trading session the release of JOLTS job openings will be closely watched after last Friday's blockbuster jobs number. Oil traders also look to the API weekly crude inventory release.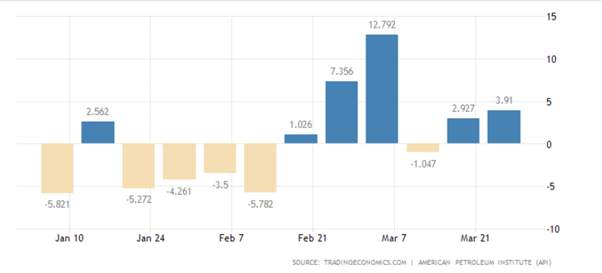 The big theme going into today is going to the United States economy, following the huge beats in the ISM manufacturing, Non-farm payrolls, and ISM survey report. The US session should be particularly volatile as traders return from the long Easter holiday weekend.
Getting technical, the 200-day moving average on the US dollar index is going to be a big focus today, following the recent pullback in the buck against most major currencies. Both the S&P 500 and DJIA are also in price discovery mode as they continue to hit new all-time highs.