The highly anticipated US consumer price inflation rate jumped to 5% in May, the highest since August 2008 and above market expectations of 4.7%, reflecting the ongoing economic recovery and the low base effect caused by Covid-19. The month-on-month rate of change was actually slower than April's print and the markets may have taken that as a sign that the future may not be higher CPI readings for much longer. The Nasdaq which has been very sensitive to inflation fears is trading green for the day, and US 10 yields having spiked a lot higher to 1.530 collapsed almost as fast down to a 3-month low.
Employment data out today showed US Initial Jobless Claims fell as Americans filing new claims for unemployment benefits dropped to 376k, which is the lowest level in over a year.
The US dollar is still unfortunately pinned to the $90, which is not good news for anyone trying to capture a trending move on one of the major crosses. It looks like the only way to get the US dollar off this level if the Fed actually make noises towards adjusting policy. Which they could do if employment data stays robust and inflation now sticks above 2% in the CPI and PCE readings.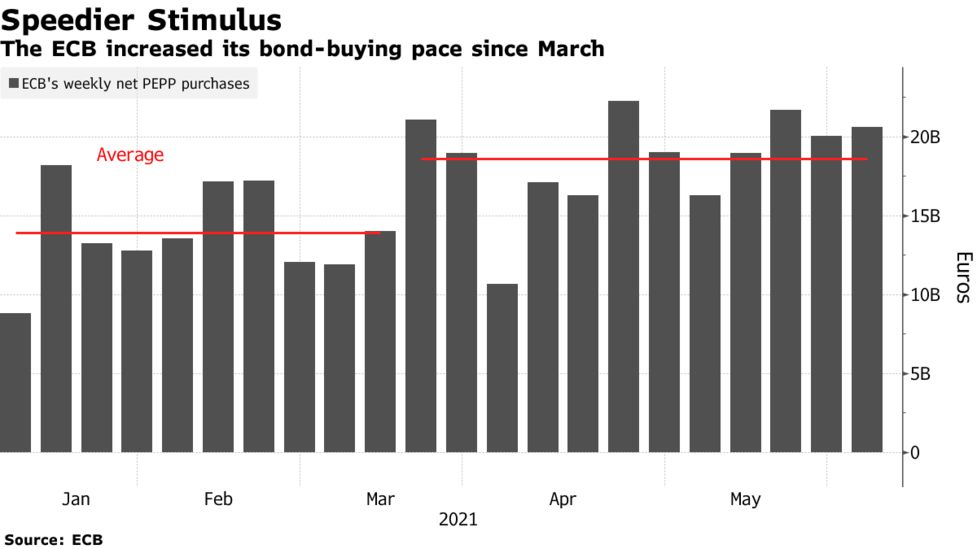 ECB was in focus before the US CPI and the central bank left monetary policy unchanged, saying it expects net purchases under the PEPP over the coming quarter to continue to be conducted at a 'significantly higher pace' than during the first months of the year. Which to traders is a dovish signal. ECB sources say that 3 of the policy makers wanted to cut PEPP purchases, so there could be descent in the ranks in the coming summer months, which are generally low volume affairs.
The EURUSD had traded lower into the US session open but by the London close was back to its opening prices. Similarly at the London close the DAX was flat even after the ECB's President Christine Lagarde stated that economic activity in the Eurozone is expected to accelerate in the second half of 2021. There are some major options expiries around the 1.2175-1.2190 today, so we may get a late-night move.
Oil was back above $70 as investors weighed up recent data which showed possible strengthening oil demand, but that came undone on the announcement that the US lifted sanctions on Iranian oil officials which could be a precursor to better negotiations around nuclear negotiations and allowing Iran to supply oil to regular markets once more. If the oil embargo were lifted Iran would probably add 3.3mln barrels almost instantaneously to global supply.