Morning brief
Oil prices are holding onto Tuesday's strong gains, following the announcement that Saudi Arabia are going to initiate a voluntary cut in its oil output. Saudi Arabia is the world's second-largest oil producer, behind only Venezuela, and has oil reserves of close to 300 billion barrels.
The news sent West Texas Intermediate higher by around five percent, taking WTI to a new multi-month high, around the $50.00 benchmark level. Brent Crude Oil has settled around the $53.50 area and has also gained close to five percent.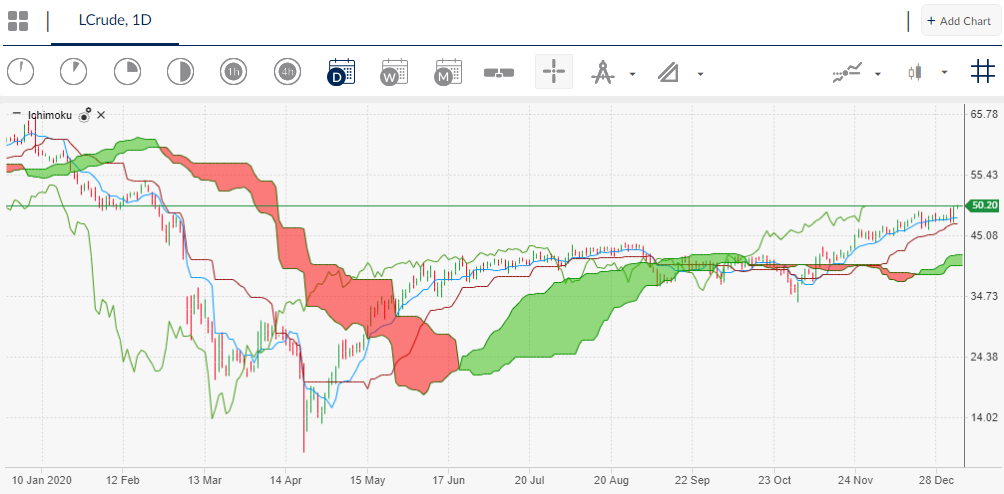 Reuters news outlet released an internal OPEC document which noted that the cut by Saudi Arabia was driven fears of the latest series of full lockdowns in major G-7 countries. As economic output drops and citizens our housebound demand for oil will naturally drop.
To make matters worse, Iran has recently seized a South Korean vehicle, raising fears about counter measures against the major OPEC member, Iran. The move by Iran was said to be in relation to a $7 billion debt that South Korea owes.
Natural Gas also posted major gains over the Iran out cut, and traded around the $2.70 level, and has gained around 5 percent in value since the news drop. Natural Gas has been on a tear higher since the start of the year and has gained around $0.20 cents since the start of 2021.
Since late-July 2020 Natural Gas has gained over $1.00 and has been technical bullish above its 200-day moving average since August. The harsh winter in many states in America is also seen as bullish for Natural Gas prices.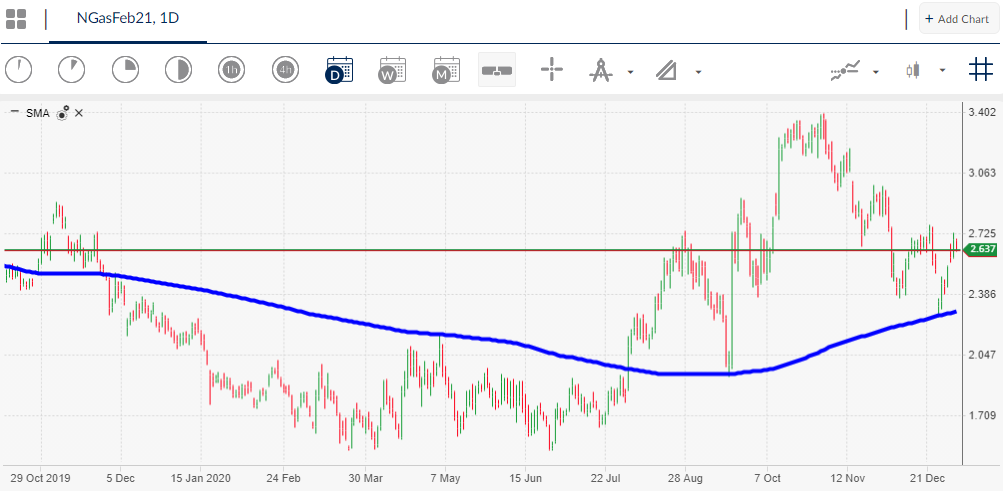 Weather conditions, economic conditions, and petroleum prices are a major driver of Natural Gas prices. Extreme weather conditions are seen as a huge driver for Natural Gas, for example extremely cold conditions is seen as bullish as more heating will be needed. Hot weather is also bullish, as more air conditioner units will be used, which further boosts Natural Gas prices.
Georgia Run-off Update
The main driver of financial markets at the moment is the Georgia run-off, and with vote counting is now underway, and markets are in a tense mood. Early report suggest that the Democrats are in-front in one race, with Raphael Warnock defeating Kelly Loeffler, while the Republicans are reportedly ahead in the other race.
Market consensus suggests that a risk-off tone will come into play if a blue wave takes place, sending stocks lower, prompting US dollar weakness, and sending bonds higher. Bitcoin is already getting in on the action early and has rallied to a new all-time high, close to $36,000, in expectation of more US dollar weakness.
Asia markets were subdued today, as jitters over the Georgia outcome kept traders on edge. Additionally, Japan has announced that 1,500 new COVID-19 infections have been recorded.
Reports also suggest that a United States journalist has been arrested in Hong Kong, making the already strained relations between Beijing and Washington worse.
US futures are currently around (-0.5%) lower, and European markets are set to open in the red. In terms of data during the European session, traders look to a raft of service PMI data from peripheral EU economies, and also service PMI data from the UK.
Services make up nearly 80 percent of UK GDP, so sterling and the FTSE100 may be in for a lively session and will react accordingly.