Today's Non-farm payrolls job report came in much worse than analysts and economists had been predicting, with -140,000 jobs being lost during the month of December. The negative headline number echoes the April 2020 payrolls job report, when rising COVID-19 infections caused US jobs to plunge.
The initial market reaction saw the US dollar sell-off, and stocks tumbling lower. Perhaps the story of the day so far, apart from negative headline number is the plunge in metals.
Gold and silver were absolutely hammered prior to the release of today's job report. No big news surrounding why they were both sold, although volumes surrounding the selling were admittedly large.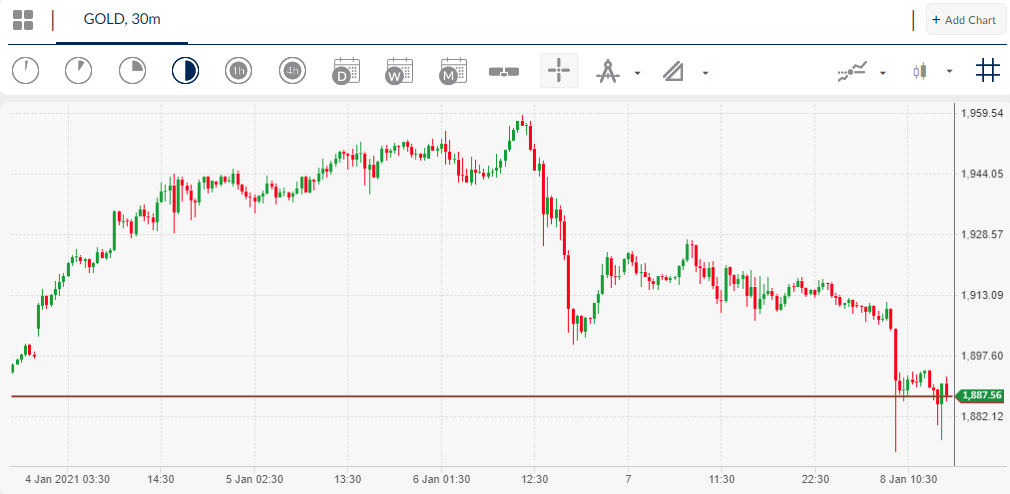 Markets may be holding up well due to the unemployment rate actually ticking lower to 6.7 percent, despite the negative number, and average earnings in the United States also making solid traction, with a +0.8 percent increase, which easily outpaced expectations.
Additionally, solid revisions to the headline number were seen for the previous two months, which once again spared a major market sell-off. The job report underscored that the majority of losses are coming from the leisure and hospitality sectors, which you would expect during virus pandemic.
A common theme with the Non-farm payrolls report has been a focus on average earnings, with traders and investors dismissing the headline number. Inflation is a hot topic at the moment, and expectations of rising inflation could lead to a call for the Federal Reserve to hike rates down the road if the US eventually stabilizes.
Of course, any recovery in the US economy will very much depend on the spread of the virus in the United States. Evidence is starting to emerge that the new mutation of COVID-19 is in the United States, and this may be something the market will start to focus on.
Canadian jobs report
The Canadian job report came in worse-than-expected as well, although it should be noted that the market was probably expected a negative headline number. The December headline number came in at -62,600, which was below the expectation of -37,500.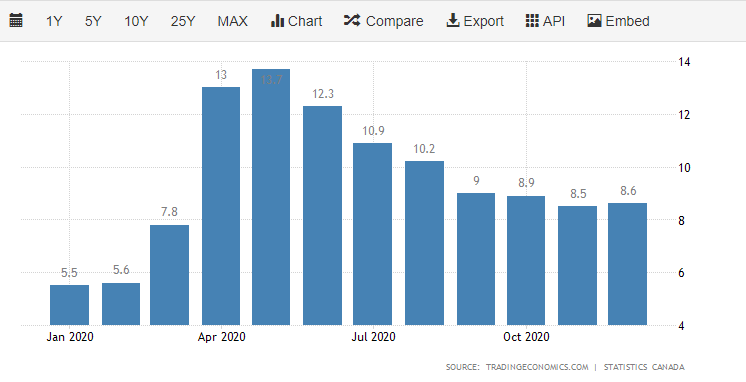 No real reaction in the Canadian and oil prices, which just goes to show that the market had been expecting a big miss. Worryingly, the Canadian jobs report showed that the unemployment rate rising to 8.6 percent. Last month the Canadian unemployment rate was at 8.5 percent.
Job losses came from both full and part-time workers, although wages did increase slightly on a monthly basis, with average hourly wages raising 5.5 percent against expectation of a 5 percent increase.
The report appears to have been heavily affected by COVID-19, with some 1.1 million workers feeling the brunt of virus in Canada. The report stated that some 28.6 percent of Canadian are now having to work from home.