Investors will be closely watching US earnings season this week, and one stock in particular that market participants are likely to focus on is Netflix. The streaming giants stock price has been consolidating in recent weeks and months after posting blockbuster gains in 2020.
Market expectations are high that the company will release positive guidance about the 2021 business prospects for Netflix. This week's announcement surrounding clarification over Netflix's new content production in 2021, and how they fared during holiday season will be closely eyed by investors.
Delivering value for customers may be seen as paramount, as Netflix fights to maintain and grow its market share in an increasingly competitive market sector, which includes emerging streaming services such as Disney and Amazon Prime.
In 2020, Netflix added over 30 million users, giving them a massive 200 million paid subscriber bases. Like many tech companies, the COVID-19 pandemic had an overall positive effect on the company, as millions of people were confined to their homes during lockdown.
It is likely that the Netflix's guidance for Q4 is going to be extremely positive, given the mentioned trend of global lockdowns. The company also posted positive cash flow recently as some production sets temporary stopped during COVID-19.
Netflix's stock is up over 100 percent from the lows of 2020. If Reed Hasting and joint CEO Ted Sarandos 2021 projections match the bumper growth seen during 2020 then a surge in Netflix's stock price could be seen this year.
From a technical perspective a breakout does look likely. The stock has been trapped in a fairly tight price range since July. To sum up recent price behaviour, every time a breakout to either direction looked likely, a sudden pullback occurs, and the established $100.00 range continues.
The market reaction and information towards Netflix's forward guidance will be crucial. In theory, positive 2021 guidance this week could send the stock into a much needed, and potential higher trading range.
Netflix Short-term Technical Analysis
The four-hour time frame clearly shows a bearish head and shoulders pattern looming over the stock in the near-term. A move under the $490.00 level is currently required to activate the bearish price pattern.
The overall size of the head and shoulders pattern suggest that a drop towards the $440.00 area, which is close to the range bottom could take place.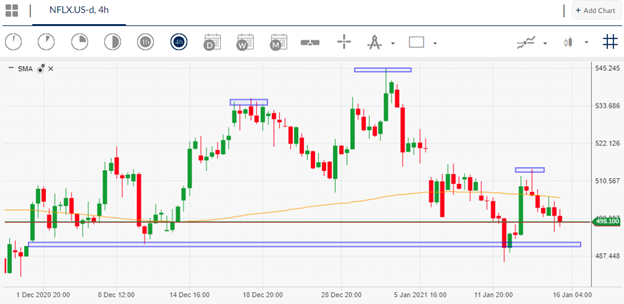 Taking the other side of the trade, if the bearish head and shoulders pattern is invalidated then Netflix's stock price could start a $50.00 rally, sending it towards the $600.00 level. Bulls need a breakout above the $540.00 level to confirm the invalidation.
Netflix Medium-term Technical Analysis
The most striking feature of the daily time frame is the sideways price channel that Netflix has been stuck in since July. The channel is located between the $560.00 and $460.00 levels.
Due the extended period of price consolidation, an explosive directional move should be expected once a confirmed breakout from the channel takes place.
It should be noted that the stocks 200-day moving average is now dangerously close and is found at the $480.00 level. Netflix has not traded below its 200-day MA since March last year.