During the upcoming trading week, the release of United States Consumer Price Index inflation data is set to capture the market headlines, following last month's significant increase in CPI and Core CPI inflation.
Other key highlights on the economic docket this week include two important central bank meetings, as the Bank of Canada interest and European Central Bank decide on interest rates and deliver monetary policy statements.
This week will also see Gross Domestic Product data for the first fiscal quarter of 2021 from the Japanese and European economies, a G7 meeting, and key inflation and trade data from the Chinese economy.
US Consumer Price Inflation
Most economists are expecting that United States CPI inflation increased sharply during the month of May, but not a similar scale to the massive price ramp that was observed during the month of April.
Just to underscore how large the increase was in April, US core consumer prices, which exclude volatile items such as food and energy, rose 3.0 percent year-on-year from April 2021, market the largest annual increase since January 1996, and well above market consensus of a 2.3 percent.
Should we see a similar much higher price increase last month then expect the market to become extremely volatile, and for the Federal Reserve to consider that inflation is not long just transitory.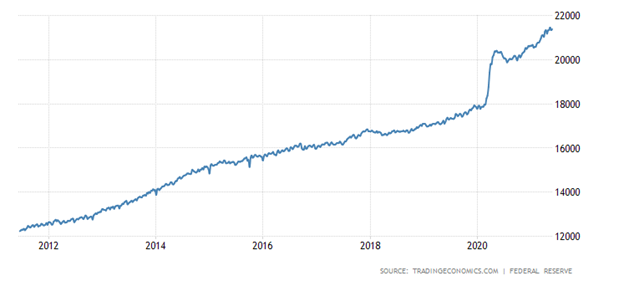 Bank of Canada Rate Decision
Traders will be highly anticipating the Bank of Canada rate decision this week, following last month shock taper from the Canadian central bank. Some market forecasters are even predicting that the BOC could become the first global central bank to hike interest rates this week.
During the last policy meeting the Bank of Canda's Balance Sheet decreased to 470238 million Canadian dollar in March from 483941 million Canadian dollar in February of 2021.
This week, I am expecting more positive commentary from the Bank of Canada, however, however, I am not expecting that the central bank will hike rates this week, although I do think they will continue to taper its QE program.
Last month's jobs number was not a great one, and inflation is not overshooting like it is in the US, so the BOC may just continue to reduce bond purchases.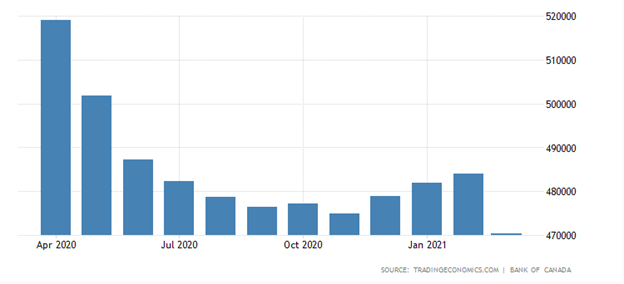 ECB Rate Interest Rate Decision
Inflation is going to be a major theme during this week's central bank meeting. The recent strong CPI print from the German economy is likely to warrant some attention from the governing members.
It is way too early for the European Central Bank to discuss winding down its €1.85 trillion Pandemic Emergency Purchase Programme program, given the fragile state of the European economy.
ECB President Christine Lagarde said something similar on May 21st, surprising investors that were expecting ECB officials to consider slowing the pace of bond purchases during the next policy meeting on June 10th this week.
Next big surprises are expected, however, the ECB do favour a weaker euro, so the press could grill the ECB President about the appreciation of the euro over recent weeks.