During the upcoming trading week, traders will be well advised to keep a close eye on the Chinese economy, as a raft of economic data points are reinforcing that the world's second-largest economy is rapidly slowing in terms of growth.
China's manufacturing PMI narrowly avoided falling into negative territory, with a 50.1 print, while the non-manufacturing sector actually contracted with a near 47.0 reading, further raising the alarm bell for China bears.
Digging deeper into the data it was the first contraction in services activity since February 2020, dragged down by tough restrictions due to rising cases of the Delta variant of coronavirus, with new orders at 42.2 vs 49.7 in July.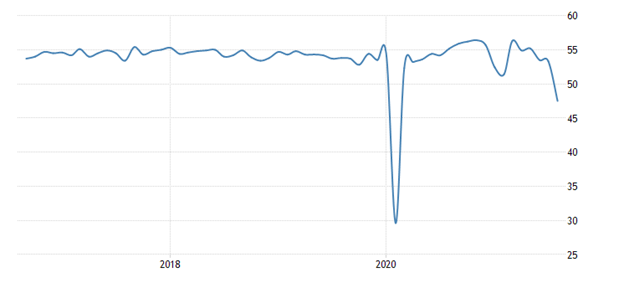 New export orders fell sharply, and employment also shrunk at a steep rate. Interestingly, prices data showed input cost inflation slowed, while selling prices dropped for the first time in ten months, and confidence hit its lowest in seven months.
The nations stock market has been in freefall, with tech stocks getting crushed as the government banned for-profit educational tutoring and demanded more social spending from its tech giants, send tech ETF's reeling.
Economists at Nomura are warning China could be facing a "Volcker Moment"; similar to when the former Fed chair signalled, he would hurt the economy with higher interest rates in order to break the back of inflation.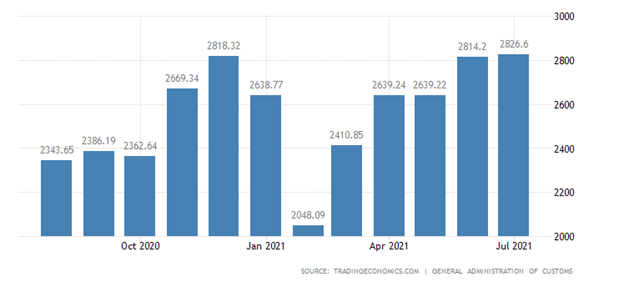 It is therefore very worthwhile to pay close attention to CPI data this week from the Chinese economy. In fact, China is releasing a slew of important data points this week to keep an eye on including to inflation, export, import, lending, and of course upcoming housing data.
Signs that the housing market is starting to overheat could cause a major problem for the Chinese economy amidst low immigration and a declining population. COVID-19 has naturally vastly slowed immigration and tourism demand in China.
Perhaps the biggest worry right now is the impact of COVID-19 to the Chinese economy. The worry chart above of the non-fracturing sector provides a snapshot of just how things can turn south due to the globally connected economy.
As the supply chain starts to break down and the data worsens, I would suggest keeping an eye on certain key trades, such as the AUDJPY, AUDUSD, Nikkei225, and of course the VIX volatility index.