Both WTI and Brent Oil closed the former trading week at twelve-month highs, as even the weaker-than-expected January Non-farm payrolls job report from the United States economy failed to dent the ongoing price appreciation in oil.
Data showed that West Texas Intermediate oil and Brent crude oil are currently enjoying their best start to a new trading year since 1990. Last weeks near $5 surge in WTI and Brent underscores the positive sentiment towards oil at the moment.
Additionally, the new trading week has seen a carryover of bullish momentum from the previous trading week, with both West Texas Intermediate oil and Brent Crude Oil gaining +1% and making fresh yearly highs.
Bullish tones are not only spreading through the spot oil market at the moment. Front-ended monthly oil futures are also starting to explode to the upside. This is a very positive sign. A plethora of bullish catalyst are currently underpinning the advance in oil price at the moment.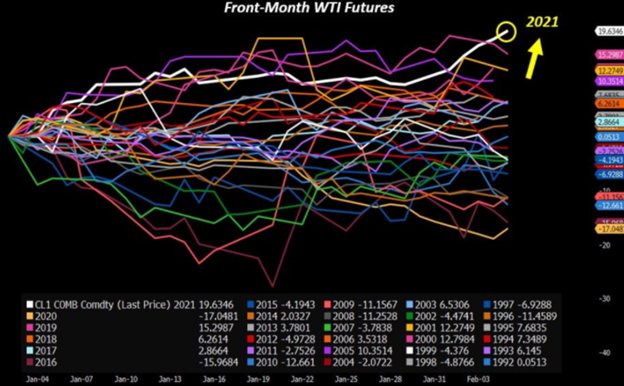 Looking at the consensus reason why oil is rallying at the start of 2021 we actually need to go through quite a number of upside catalysts which are causing traders and investors to go crazy for the so-called black gold.
First and foremost, oil prices are rallying due to OPEC continuing production restraints. Last week's OPEC meeting was extremely bullish for oil as OPEC member kept a strong consensus on keeping a lid on production.
Secondly, a large crude oil inventory decreases in the United States last week also helped stimulate oil prices. We also have to factor in the upcoming United States stimulus and Aramco's price hike for European buyers.
Going forward traders are wondering if the ongoing rally in oil prices will start to fizzle, of if the breakout is part of a cyclical trend that will start to accelerate once global consumption starts to pick-up after COVID-19.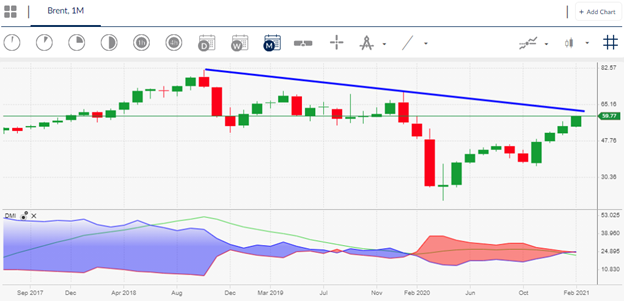 I believe that the March OPEC meeting will be absolutely key for determining the price of oil. Before touching on the March OPEC meeting, it is worth acknowledging that most analysts believe the price of oil is going to rally when the Biden administration launch the $1.9 trillion spending package into the United States economy.
Two competing forces are going to decide whether OPEC stop oil constraints at the March meeting. Russia is reportedly itching for now production to resume, while the Saudi Arabia is seen as a lead voice in keeping the cuts in place.
Unusually, a strong consensus was reached during the last OPEC meeting, this is certainly bullish for oil prices going into the March meeting, as it increases the likelihood of cuts remaining in place, due to strengthening ties between OPEC members.
Should we continue to see COVID-19 infections remaining high across the world then the chances of a replay during of the February meeting seem high. We must also factor in that rising consumption from a reduction in COVID-19 restrictions is also bullish for oil prices. So, all things considered, the prospects for oil and commodity prices look bright in this quarter.