The FTSE100 is staging a welcome technical correction to the downside as ongoing strength in the British pound currency started to weigh on a number of key stocks inside the widely traded UK index.
Last week the FTSE100 rallied within touching distance of the 7,000-resistance level, hitting 6,963, and racking up the auspicious title of becoming the best performing index in Europe so far this year.
The United Kingdom is currently the worst affect nation in Europe in terms of COVID-19 infections, and businesses in the UK are being heavily hit by the latest lockdown, which is expected to stay in place until April.
This week, things have changed, the FTSE100 is now the worst performing index on the week. Even the ITA40 is performing better than the FTSE100, even as Italian bond yields rise due to internal political instability.
It is also noteworthy that AstraZeneca and GlaxoSmithKline have been weighed down this week, while the pace of gains in oil heavyweights such as Royal Dutch Shell and BP has lessened since last week.
Dip-buyers may have gone the pullback that they have been waiting for as the FTSE100 could be preparing to stage a much rally if incoming President Joe Biden announces a huge stimulus package as widely expected later today.
The recent correction has so far found strong support from a key long-term trendline, which needs to be defended to keep the ongoing move higher on course for an eventual breakout above 7,000.
Overall, the technical still look good for the FTSE100 while price holds above the key trendline, however, traders remain cautious as sterling continues to hold well-above the 1.3600 handle.
FTSE100 Short-term Technical Analysis
The four-hour time frame shows that that the index is currently trading within a bullish flag pattern between the 6,850 and 6,690 levels.
According to technical analysis, the mentioned bullish pattern has a upside projection of around 140 points, which could take the FTSE100 towards the 7,000 level.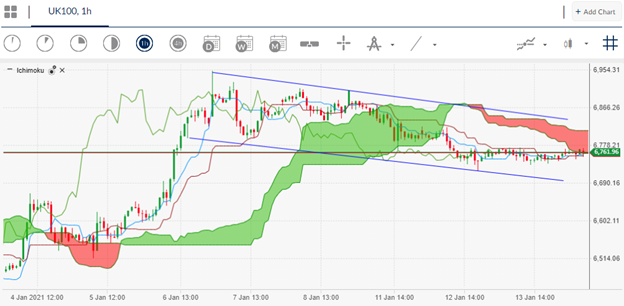 With this in mind, watch out for further short-term weakness towards 6,690 level before a counter-rally above the 6,850 levels takes hold, a breakout above the 7,000 level could spark a rally towards the 7,110 area.
FTSE100 Medium-term Technical Analysis
The daily and weekly time frames currently show that the price is approaching major trendline resistance, around the 6,700 level.
To give traders some context, the FTSE100 collapsed by around 1,500 points after breaking the trendline last March and staged a huge rally last week after breaking back above the trendline.
With this in mind, traders should watch the key trendline in question carefully, as the FTSE100 may bounce back to new highs above the 7,000 level if the trendline is defended or collapse to the downside if broken.