The Canadian dollar is braced for a major bout of volatility later today as the much-awaited March employment report from the Canadian economy is released. Market consensus is that 100,000 new jobs were created last month.
Markets are unlikely to be entirely happy with a 100,000 headline jobs number, following February's very strong 259,000 headline number, which was the strongest jobs number since September 2020.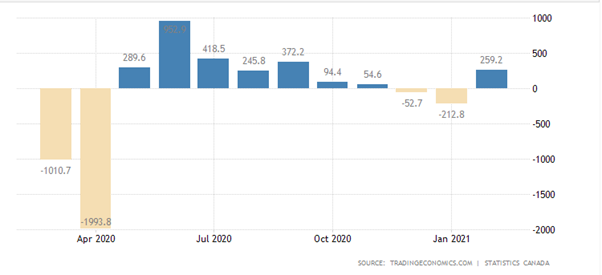 Upside momentum is the order of the day now, with traders and investors probably needing to see a big beat today in order to perpetuate the notion that the Bank of Canada may start to re-think fiscal policy.
Additionally, the Canadian dollar remains extremely strong against the greenback, and will need a very strong headline number or so-called bullish catalyst to prompt further buying demand for the Loonie.
A bright spot in today's jobs report may be unemployment. The official unemployment rate from the Canadian economy is predicted to drop to 8.0 percent. Anything below 8.0 percent will be seen as a major positive for the Canadian economy.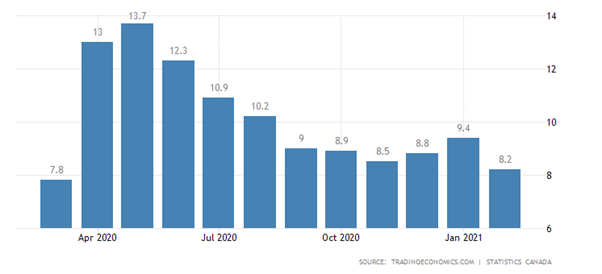 The previous Bank of Canada policy meeting saw the central bank stating that the Canadian economy is on track for recovery, however, jobs have still not recovered to pre-pandemic levels. This is another reason why the central bank probably needs a very strong number today to change their view.
Market participants may start to bet that the Bank of Canada may be the first global central bank to change policy if today's jobs number comes in hot. This would also be on the heels of the incredibly strong manufacturing March PMI number.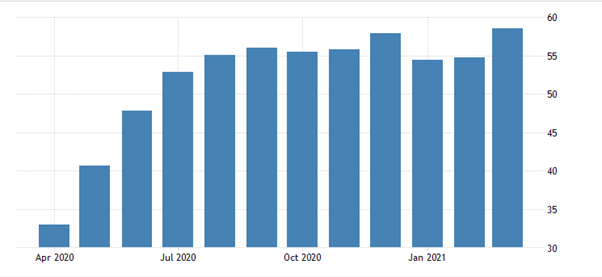 Canada's Manufacturing PMI rose to 58.5 in March from 54.8 in the previous month. The latest reading pointed to the 9th straight month of expansion in the country's factory activity and at the fastest pace in the survey's history. New orders, output, employment and purchases posted solid rises amid the easing of some Covid-19 restrictions.
In terms of market reaction, Canadian dollar traders probably need to see a big beat today in order for the currency to gain further transaction on the foreign exchange market. The USDCAD pair is certainly in an interesting spot right now.
Looking more closely at the USDCAD pair a tentative break from a falling wedge pattern is currently underway. A downbeat jobs number is likely to cause a rally towards the 1.2650, and possibly the 1.2740 area.
To the downside, a strong jobs number could see the USDCAD pair testing the 1.2500, and possibly the 1.2450 area later today. The USDCAD is in a bear trend so a disappointing number is really needed to upset the down trend in this pair.