According to the latest preliminary report released today by Destatis, German inflation in May is forecast at 7.9% on an annual basis. It is estimated that the consumer price index (CPI) grew by 0.9% from April to May.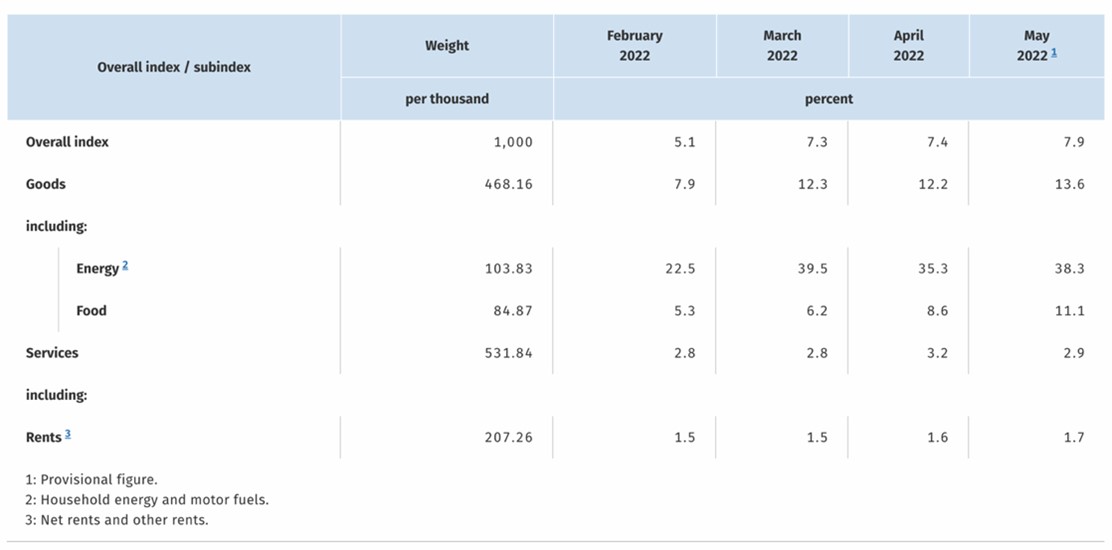 Fuel prices rose 38.3% year over year in May, while food prices increased 11.1%. Pandemic-related disruptions in supply chains were also noted in the Destatis report. The disruptions and uncertainty around the Ukraine invasion by Russia will keep inflation high especially if the European Union comes to an agreement today to ban Russian energy imports.
German Chancellor Olaf Scholz has been reported to have said today that there is "every indication" European Union member states will agree on sanctions on Russian oil as they meet for a summit today and tomorrow. "All that I hear is that there really are discussions that are being held with a will to reach an understanding". "I am firmly convinced that today, tomorrow, we can debate further for a good solution," he added, warning that "no one can predict" if an agreement will actually be reached. However, European Commission President Ursula von der Leyen said she does not expect a deal in the next 48 hours.
Brent is trading higher as the assumption is that EU ban on Russian oil will get through eventually and that the demand will outstrip supply. Come Thursday this may change if OPEC+ were to increase supply but week will have to wait for their meeting to conclude and for the EU decision to be finalised. For now, the price of energy is rising, and this will add to the inflationary problems that the Central Banks are trying to mitigate with their rate hikes.
The forex heatmap has been showing flows out of the Japanese yen and Swiss franc all day, whereas the commodity pairs have been relatively strong. This has translated into the major global stock market averages all rising, even though the US is currently closed for Memorial Day.
Being long the AUDJPY or just generally shorting the yen has been a great trade today and with the RBA coming into focus this week and then again at the rate hike decision next week, we should get a strong AUD for several more days.
The US dollar index is again drifting lower supported by a relatively strong euro. The RSI on the H4 chart is pushing off the lower levels and starting to indicate bullish divergence to price. I still feel that the DXY comes lower to find some structural support or a demand zone, but we should keep an eye on momentum as indicated by the RSI for a possible accumulation phase.
It will be another quiet day tomorrow in terms of scheduled Tier-1 data but during the Asia-Pac session there are Japanese retail sales figures along with some Australian economic data, so that may have some baring on whether the AUDJPY trade works out further in our favour or possibly not. The focus in the European session is likely to be the European Flash CPI estimate following on from the UK mortgage approvals. In the US session the market turns to the Canadian GDP and the Conference Board Consumer Confidence data.
On the H4 chart the USDCAD could devalue quite heavily as there is not market structure to support it between 1.2700 and 1.2500. The move from April the 21st was very fast and it left a large imbalance. Increased demand and lack of supply of crude will support the CAD, regardless of tomorrows GDP report.