BlackBerry (NYSE: BB; TSX: BB) provides intelligent security software and services to enterprises and governments around the world. The company secures more than 500M endpoints including more than 175M cars on the road today. Based in Waterloo, Ontario, the company leverages AI and machine learning to deliver innovative solutions in the areas of cybersecurity, safety, and data privacy and is a leader in the areas of endpoint security, endpoint management, encryption, and embedded systems.
It has been over 20 years since the internet birthed into the zeitgeist where the race was to build a website and then have one of a few search engines be able to find links to your home page. There was MSN search, Google, Ask Jeeves and we browsed using Netscape Navigator, Internet Explorer and AOL. To access communications on the go, we were using mobile phones that could text and, in some cases, direct message and during downtime, we could play rudimentary games, but the future was already all about having your mobile phone give you access to the world wide web. I remember distinctly the first time I could browse my favourite websites on my phone and the underwhelming experience that was.
Receiving your first email on a phone was however a massive step up in technology and the usefulness of your phone. Now people or clients could contact you by phone call, text, direct message, and you could receive both work and personal emails 24/7. My mobile phone became indispensable as I set up my first company and things were getting exciting as the economy was booming into 2007.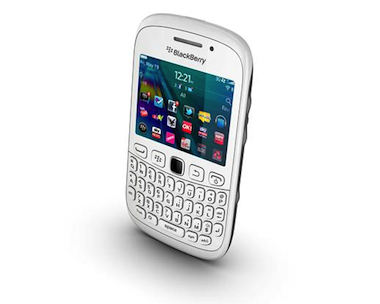 Living in central London and getting the tube meant you could monitor what the latest greatest book, that everyone had to read was, or what mobile device was popular. Nokia (NOK) was the handset of choice but there was a race to get thinner and smaller, and a flip phone competed with a sliding keyboard, as handset makers tried to pack in as many features as they could into ever smaller products. There was one other handset that seemed to dominate, and it was distinguished by its QWERTY keyboard and rounded edges. It was a solid unit and was easy to type with, plus it boasted the highest level of security and a very popular direct messaging function. The BlackBerry Curve had a 2-megapixel camera, a trackball interface, and a 320×240 resolution colour display. The people in suits seemed to favour the phone but that may have been down to the companies they worked for pushing the Blackberry onto them, as the work phone needed to be secure when sending work emails, etc.
For me, I aspired to have emails, games, photos, and more importantly music directly available through my phone. Having two devices on one's person was a frustrating necessity, I did not go anywhere without my phone or mp3 player, but by 2007 there were rumours that Apple (APPL) was about to launch a phone which could incorporate their iPod into a mobile phone device. Not only that, Wi-Fi and Bluetooth were becoming necessary, and the iPhone that Steve Jobs launched would be the first to launch with the latest connectivity and also ditch the push-button keyboard in favour of a touch screen. The power of the internet was now available on your device, with music, videos, and maps.
In the book, Losing the Signal: The Untold Story Behind the Extraordinary Rise and Spectacular Fall of Blackberry, Mike Lazaridis, the founder and vice chairman of BlackBerry at the time watched the televised Macworld convention from his treadmill.
"How did they do that?" he wondered.
The original iPhone did not turn out to be that great in reality, the keyboard was clunky, and the battery drained really quickly and for Blackberry and Research In Motion (RIM) they rested on their laurels of having the most secure offering for mobile data transfer.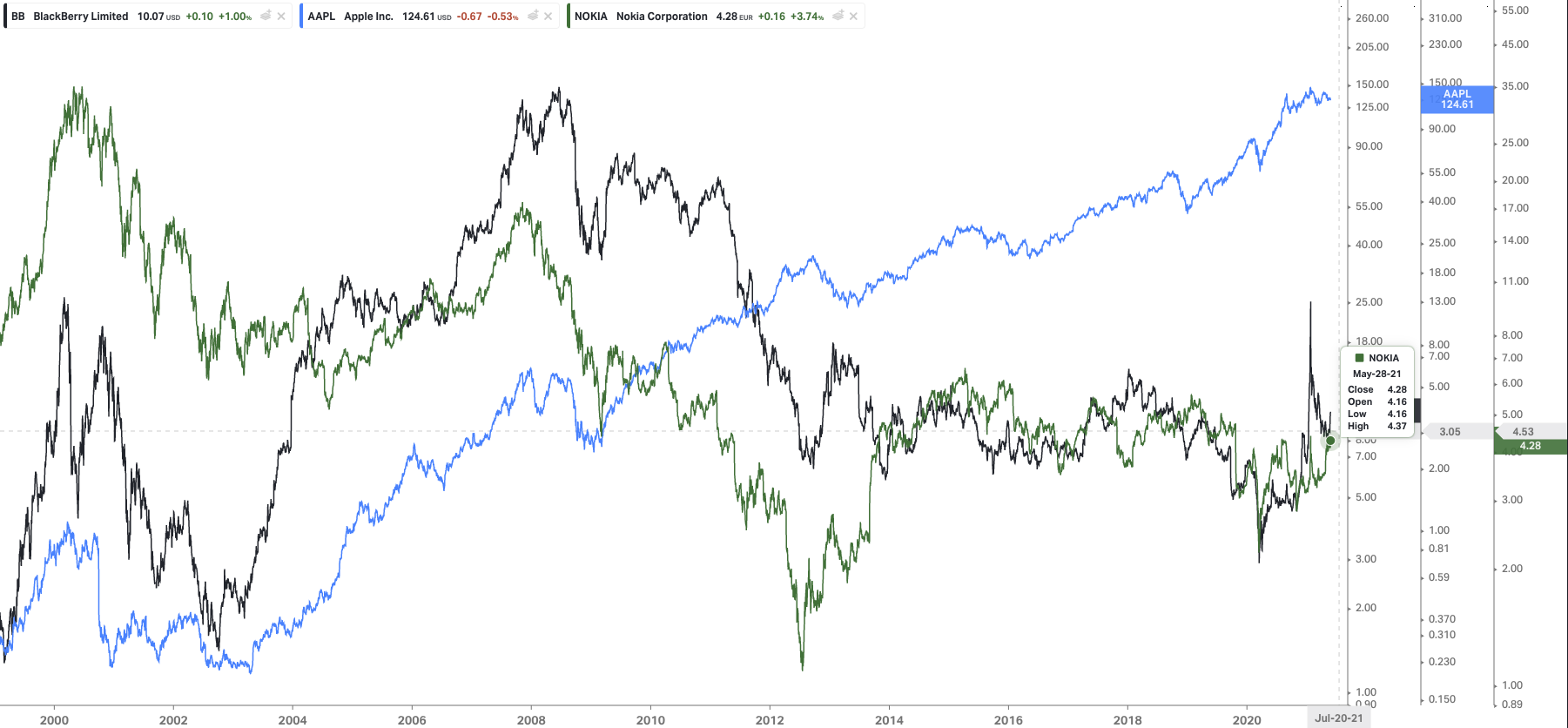 Looking at a multi-year chart of the Blackberry stock price you could put the rise and fall to the great financial crash of 2007-2008 which culminated in the bankruptcy of Lehman Brothers but then led to the Eurozone debt crisis in 2010. But the truth is that the iPhone pushed and pushed the envelope of what a mobile phone could become, transforming Steve Jobs' ideas into a true smart phone which would eventually be as secure as the Blackberry allowing for corporate adoption.
By 2013 Blackberry introduced Blackberry 10 replacing the Blackberry OS platform and attempted to deliver a bigger and better user experience. They also ditched the physical keyboard and killed off any last loyal customers and any prospects of being the world leader that it used to be. The iPhone by 2013 had been through iterations up to the 5s and 5c, which boasted a faster 64-bit A7 System on a Chip (SoC), Touch ID, and a new motion data processor.
A price chart that compares Blackberry, Nokia and Apple shows that the APPL share price clearly rebounded at the end of the GFC, whereas the BB and NOK decline into 2013 and then plateaued around the same prices we find them today.
Since the latest economic downturn caused by the COVID-19 pandemic, the Blackberry share price has rebounded from its lowest lows and earlier this year had a daily spike higher, doubling the average share price before retreating towards its mean. The spike came on the back of news that a 5G Blackberry device with a physical keyboard could be on its way after the latest license owners of the brand, OnwardMobility had taken over from TCL. The Blackberry will run on the Android, but until there is a physical product the rumour mill and price spikes are likely to continue.
The OnwardMobility CEO Peter Franklin is on record saying, "What's been missing, however, is the ultra-secure and productivity-centric smartphone that can address the needs of enterprise users, government users and security-conscious consumers – and that's the gap we expect to fill."
Of the 1.29 billion smartphones shipped globally in 2020, 20.6% came from Samsung Electronics and 15.9% from Apple, but it could be the new working conditions brought on by the coronavirus which has a lot of workers teleworking from home, that could be the saviour of the new phone offering from OnwardMobility. Blackberry has always kept its secure data service and reputation, so a phone with a physical keyboard, 5G network, and security could be the most productive offering.
Earlier this month BlackBerry who have maintained their secure infrastructure offerings announced its next-generation cloud-based endpoint detection and response (EDR) solution BlackBerry Optics 3.0, and BlackBerry Gateway, the company's first AI-empowered Zero Trust Network Access (ZTNA) product.
"We are delighted to see our vision for an extended detection and response architecture take shape," said Billy Ho, EVP of Product Engineering, BlackBerry.
The retail trading forums are all a buzz about the stock and as we have seen with other companies the smaller retail trader loves a short squeeze and that could be why we saw the share price rally to the prior supply/demand zone near $12.15 before being rejected.
The earnings report shared by the company in late March 2021 showed:
Total company non-GAAP revenue of $215 million; total company GAAP revenue of $210 million. Non-GAAP earnings per basic and diluted share of $0.03; GAAP loss per basic and diluted share of $0.56. GAAP loss per share was largely driven by a non-cash accounting adjustment on the convertible debentures, resulting from market conditions. This adjustment equates to approximately $0.46 of GAAP loss per share.
Net cash generated from operating activities of $51 million.
The fiscal Year 2021:
Total company non-GAAP revenue of $919 million; total company GAAP revenue of $893 million. Non-GAAP earnings per basic and diluted share of $0.18; GAAP loss per basic and diluted share of $1.97.
Net cash generated from operating activities of $82 million.
"This has been an exceptional year to navigate, however we are pleased with QNX 's continued recovery, despite new challenges from the global chip shortage. QNX now has design wins with 23 of the world's top 25 electric vehicle OEMs and remains on course to return to a normal revenue run rate by mid-fiscal 2022. BlackBerry IVY also made encouraging progress, with positive engagement from a number of leading automakers and the launch of our BlackBerry IVY Innovation Fund." said John Chen, Executive Chairman & CEO, BlackBerry.
 "We are seeing tangible signs that our efforts and improvements in go-to-market are starting to pay off and have a positive impact. This quarter we generated strong sequential billings growth for our Software and Services business, including significant improvements for both Spark and QNX. Total billings are back to pre-pandemic levels."

The Price to Earnings ratio shows that the company is currently unprofitable, and this is a major red flag for any investor. However, a speculative dip into the shares before the new handsets are released could be a good play. There is a relatively high percentage of Institutional ownership, and the market returns this past year are 89.7% which is nothing to be sniffed at. The Blackberry stock price has exceeded the Canadian software industry and the overall TSX by almost 3 times as much. Plus, there is a growing swell of support from the retail traders on forums like Reddit who are looking at undervalued companies with a high short squeeze potential.
Technically the weekly charts are showing that Blackberry has found support at the 200-period moving average and is about to show a Golden Cross any day soon, as the weekly 50 ema approaches the 200 ema. The swing low from January 2021 would act as a great place to consider bailing out of long positions but for those looking to have tighter stops, there is a swing low from the 9th of May.
The most realistic upside targets would be the year's high of $28.60 and then above that the $33.60 level last traded in August 2011.