Since 2013, the Activision Blizzard price chart has had many gaps between the closing price and the next day's opening price, and these usually occurred after earnings reports. Even if it took several months for price action to unwind, since 2015, these gaps have always been filled. Prior to 2015, there was a period of 'Gap & Go' moves when the trading community bought into the company as it proved to be a great growth stock.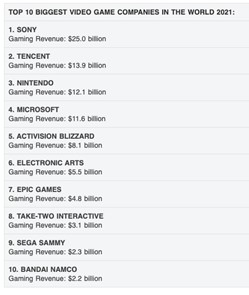 As part of the top 10 gaming companies, Activision Blizzard is well-positioned to shape the future of eSports and gaming. With massive growth potential in these tech spaces, Activision Blizzard has become a very attractive company to invest in (as can be seen by the general upward slowing motion in the price chart over several years). In fact, eSports and gaming are so popular now that they will be included in the 2024 summer Olympics, so with the extra kudos of being an Olympic sport, there is further potential for growth, especially as mums and dads can't accuse their children of potentially wasting most of their life away, if there is a potential the next eSport legend is just practicing in their bedroom.
Careers of the elite gamers are getting closer to IRL sports professionals too. A top gamer can earn a minimum of $75k per year, with no real ceiling to wages. The Gen Z zeitgeist is being captured by gaming, with companies, artists, and friends all melding into what will become the Metaverse.
It is the Metaverse that has sparked the Nasdaq 100's second-largest company's interest in Activision Blizzard. Xbox owner Microsoft announced they are spending nearly $70bn to acquire Activision Blizzard, which should be noted is the gaming publisher of franchises such as World of Warcraft and Candy Crush and this is the news that created the latest gap on the price chart.
In a statement, Microsoft said the $68.7 billion deal which dwarfs the $26 billion takeover of LinkedIn in 2016 – will "build the foundation for the metaverse". The deal also surpasses Dell's 2015 acquisition of the digital storage giant, EMC, for $67 billion, which had been the previous all-time highest takeover deal. It also means that Microsoft would have a game creation division which will translate into IP and expertise needed to keep developing into what will become the Metaverse. Something that Facebook cannot hold a candle to.
In recent days, we have learned that Warren Buffett now owns 9.5% of Activision Blizzard via Berkshire Hathaway. It is no secret that Buffett is famous for finding and investing in companies whose return on equity outperforms the returns of rivals in the same industry over a long period of time. In addition to reviewing a company's profit margins, Buffett looks for companies with healthy and growing profit margins to invest in. He can also spot a quick buck like any seasoned investor and is ready to step into a deal if there is a high probability for a return.
Buffett said. "It is my purchases, not the manager (of Berkshire Hathaway), who bought it some months ago. And if the deal goes through, we make some money, and if the deal does not go through who knows what happens." Mr. Buffett has generally been a good stock picker and he is known for finding value. It came down to the fact that Activision Blizzard's shares are valued at $95 per share under Microsoft's purchase, so at today's price, a possible $20 per share return on the investment.
The charts above of Activision Blizzard and Microsoft show that the gap on the 18th of January 2022 in Activision Blizzards share price could come lower to backfill the gap, though with the latest news from Berkshire Hathaway and Warren Buffet, we may be back to the "Gap & Go" days of 2013. The Microsoft chart has not been able to keep closing prices above the opening price seen on the announcement day from back in January and this is likely due to the overall stock market being in a slump. The Nasdaq especially declining heavily in 2022 as we get closer to the rate hike cycle really gathering momentum from the Fed.
As a trading idea I would be keen to wait for the January gap to close on the Activision chart, with the new knowledge now that there is interest from Microsoft and Warren Buffet which should put a floor in the price action. At least then we could place a stop nearer to where things get invalidated which would potentially be when price pushes through the significant low.