Market Wrap
Market sentiment largely improved ahead of the release of the FOMC meeting minutes on Wednesday, as US and most European stock markets edged higher after an already turbulent trading week.
Risk-on tones returned with key market proxies such as the S&P 500 and the GBPUSD pair edging higher. However, commodity-related currencies remained pressure, offering a clear sign that the market was not yet fully convinced.
In Europe the German DAX recovered all of its previous losses while the CAC40 remained fairly muted. After decoupling from the broader market recently the FTSE100 ended the day in the red after taking another stab at the 7,200 level.
The greenback remained firmed and kept a notable bid-tone against the euro currency as the EURUSD pair lingered towards the 1.1700 level as traders sold any rallies back towards the 1.1730 area.
Market commentators noted that the EURUSD pair could be preparing to slip into a much-lower price range ahead the Jackson Hole Symposium, where Federal Reserve Chair Jerome Powell is expected to announce tapering.
In terms of data the Canadian CPI report was a clear standout on Wednesday. Canadian annual CPI rose at a faster pace year over year in six of the eight major components in July, with annual CPI at 3.7 percent against 3.1 during the same period last year.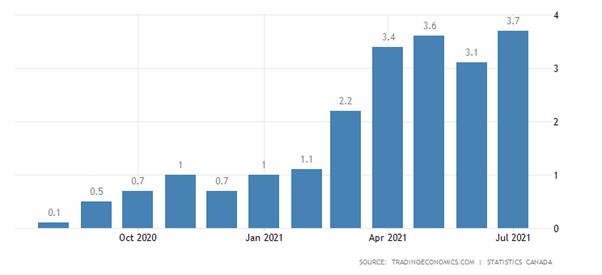 Prices for clothing and footwear as well as alcoholic beverages, tobacco products and recreational cannabis slowed on a year-over-year basis in July compared with June. Homeowners replacing costs index rises at its fastest rate since 1987.
July gasoline prices increase 3.5% month over month as OPEC supply remained below pre-pandemic levels though global demand increased, which bring us nicely to the EIA weekly report from the United States.
The report showed that crude oil inventories fall -3.234M versus expectations of -1.055M, plus a gasoline build of 0.696M versus expected drawdown of -1.671M. Crude and Brent oil both drifted lower in reaction to the report.    
Traders are investors are braced for the release of the FOMC meeting minutes. It is hard to imagine much of a reaction given that at the Jackson Hole event the FED are probably going to make their intentions clear and give major announcements then.