Market Brief
At its meeting today, the Reserve Bank of Australia decided to maintain the cash rate target at 10 basis points and the interest rate on Exchange Settlement balances at 0%.
They decided to maintain the target of 10 basis points for the benchmark April 2024 Australian Government bond and will purchase government securities at the rate of $4 billion a week and to continue the purchases at this rate until at least mid-February 2022. The continued asset purchases are because of the uncertainties around the economic effects due to the covid-19 delta variant disruptions. The RBA are still bullish the Australian economy and see the setbacks as temporary. As per the Fed, the RBA will maintain a loose monetary policy to support the economy and won't raise the rates until there is evidence the inflation rate is stable at or just above the target of 2%.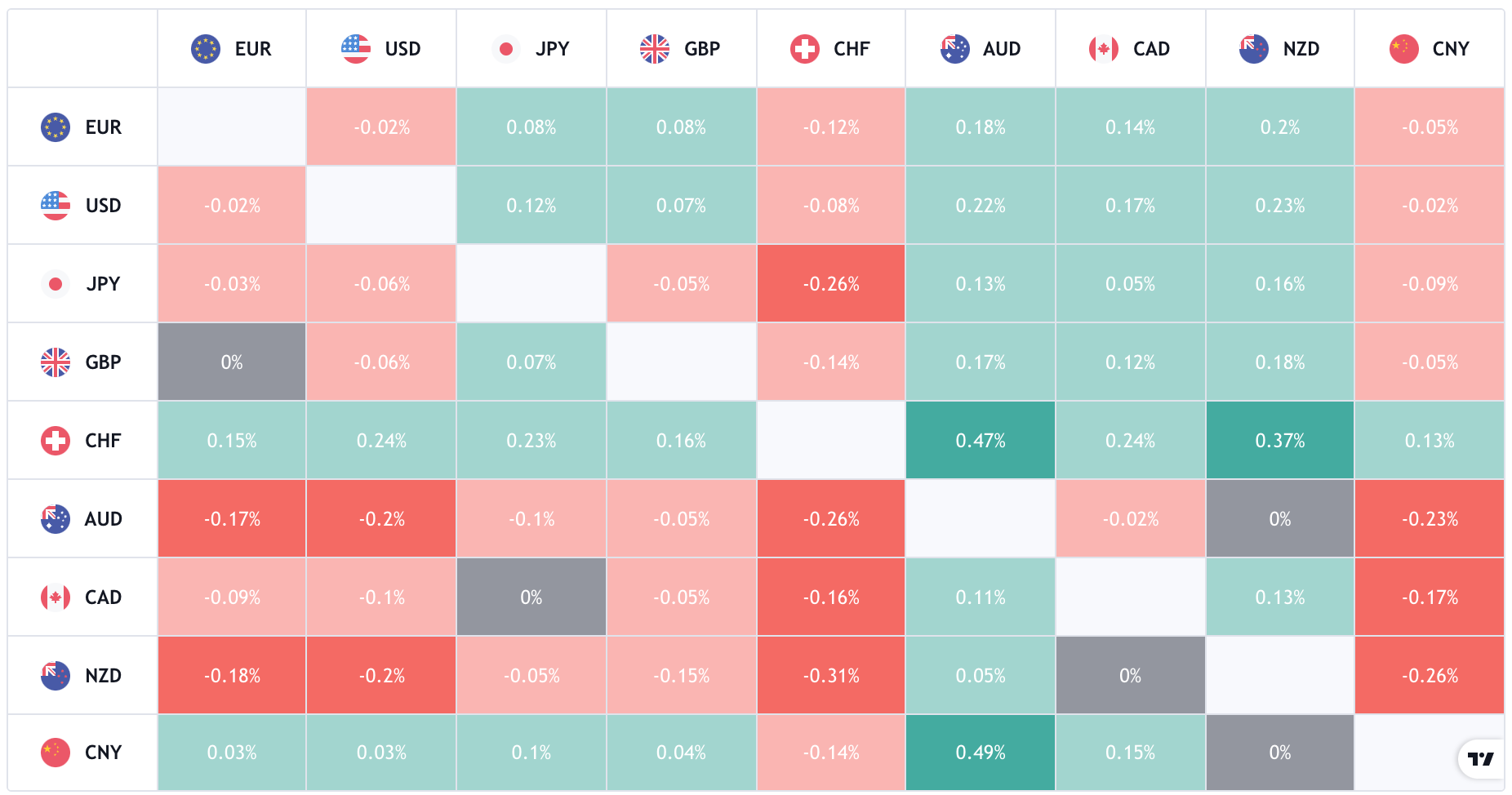 The forex heatmap shows that the Australian dollar is relatively weak against the other currencies at the London open and that has bled into the risk-on pairs. The Swiss franc has gained strength as has the Chinese yuan following good trade data out of China this morning.
The ActivTrader sentiment indicator for the AUDUSD pair is showing an increase in bearish sentiment as the AUDUSD price action stalls under the daily 200 ema.
The last couple of trading days has been on low US dollar flows and after an initial pop higher following the RBA statement the AUDUSD is correcting lower at the London open. It broke through the previous area of balance so it will be healthy for a test of that zone to see if the sellers have flipped to buyers now.
Good news for the world economy and Australia is that exports from China surged 25.6% year-on-year to a record $294.32 billion in August 2021. This is the first good data out of China in a while and came as a surprise today. The Shanghai Stock Exchange and the Hang Seng are both trading higher today.
The Halifax UK house price index increased by 7.1% in August compared to the same month in 2020. The Halifax House Price Index is the UK's longest running monthly house price series with data covering the whole country going back to January 1983. The rise in prices hit record highs in August – but the annual pace of growth continues to slow down. The average UK property price now £262,954.
The GBPUSD is rising off the 1.382 support level this morning and continues to trade within a tight rising channel. The rest of the days calendar is relatively light with some upcoming European sentiment data possibly market moving if there is a surprise number.
The EURUSD is currently trading above its daily open level but has some serious resistance above in the form of a double top and the daily 200 ema.