The United States Consumer Price Inflation data came in at its strongest since 2008 earlier today, causing the US dollar currency to sell-off broadly, precious metals to move higher, and stock global markets to continue their weekly rally.
Digging into the number the US CPI annual print came in 5.4 percent, outpacing market expectations and hitting a 13-year high. The only saving grace for the FED was the monthly CPI number, which saw a 0.5 percent increase.
Other details inside the CPI report showed that CPI inflation excluding food and energy came in at +4.3 percent as expect, which was slightly down on the prior reading. The high annual reading may have hit the US dollar as traders worry about the inflationary pressure it could be causing on the value of the buck, especially since the $1 trillion infrastructure bill passed Senate.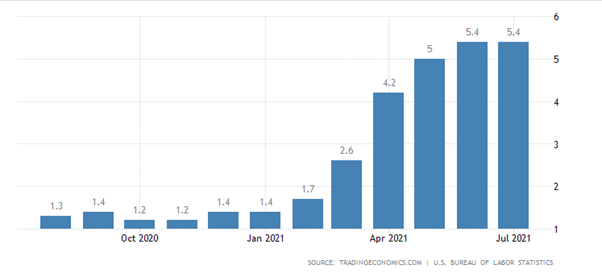 Digging into the market reaction it was all about the buck, as the US dollar index crumbled against most major currencies, with sterling leading the pack towards the 1.3900 resistance level amongst the advancing major pairs.
Gold and silver also posted strong gains, alongside copper. Both gold and silver have much scope to recover on the high CPI print given that they had been treading water around apparently oversold trading conditions.
US stock markets certainly appeared to like the inflation measure, which pointed to the fact that the market may be pricing in more QE for longer as the FED battle with high inflation and relatively uneven growth.
Across the bond the ITA40 and CAC40 were rapidly breaking out to price discovery and hitting new all-time highs, while the GER30 or German DAX, usually the leader amongst European stocks, took a pause ahead of traders continue to eye the 16,000 level.
The FTSE100 broke above the 7,200 level as stock traders in the United Kingdom started to price in a UK economy that will no longer be in lockdown but will likely start to impose vaccine passport measures.
Bitcoin started to get comfortable above the $46,000 level as the top cryptocurrency held around 40 percent higher from its former monthly low. Altcoins also benefitted, with Ripple, Ethereum, and Litecoin also posting strong daily gains.