Silver reversed sharply from the $28.00 level last week as weakness in the price of gold dragged the shiny-metal lower. Strength in the US dollar and a move away from non-yielding asset classes have also hurt the upside potential of silver.
The technicals look fairly bleak for silver this week below the $26.85 level. Additionally, the soft technical backdrop for gold does not bode well for silver either. Typically, extreme bouts of weakness in the yellow metal will translate to price depreciation for silver.
Putting this recent down move into perspective, industrial metals tend to perform better during upbeat sentiment towards global financial recoveries. We could therefore assume that silver has a strong user case element to it, through electrical goods, silverware, and also ammunition. Therefore, gold's decline is likely to outstrip silver weakness over the coming weeks.
Seasonality is another elephant in the room. Silver prices tend to fare well during the months of January to April. So silver weakness could be muted during the month of March if seasonality comes into play.
It should be noted that gold is undergoing seasonal weakness, in fact, it is underperforming on an historical basis and has suffered its worst start to the first fiscal quarter in over a decade. This could translate into a decoupling from seasonal norms for silver this month.
Back to the technicals, the short-term technicals surrounding silver are much more bearish than the long-term technicals. This is best highlighted by huge bullish patterns on the weekly chart, and the Parabolic SAR trending indicator, which is generating a weekly buy signal while silver trades above the $22.00 level.

According to the ActivTrader Market Sentiment tool traders are still overly bullish towards silver and are not worried about the near $2.50 pullback from the $28.00 level. This looks to be a worrying sentiment skew, and a bearish signal for silver in the short-term.
Silver short-term Technical Analysis
The current short-term technicals for silver show that a break under a large symmetrical triangle pattern has taken place since sellers breached the $26.85 level. A potential $3.00 price drop could take place if the breakout is confirmed.
Short-term analysis looks particularly negative for silver as the metal has cleared the Ichimoku cloud support on the four-hour time frame, and a bearish double-top formed last week, following multiple upside rejections from above the $28.00 level.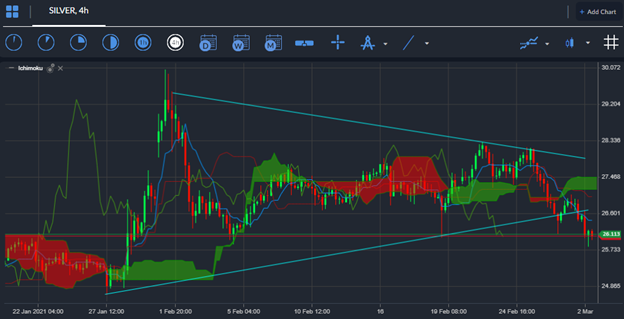 Silver Medium-term Technical Analysis
According to the daily time a price drop towards the $24.00 and $22.00 levels could place if weakness below the $26.00 level takes hold over the medium-term horizon.
A large, inverted head and shoulder pattern appears to be taking shape, with a final drop towards the $24.00 or $22.00 likely to completely the final right-hand shoulders of the mentioned bullish reversal pattern.