Midday Brief: 23/04/2021
Global stock markets are not in a happy mood today, despite some very encouraging economic data points from the eurozone and the United Kingdom economy earlier this morning. The EURUSD and the GBPUSD pairs are notably firmer, however, EU stocks are not impressed.
Most of the negativity coming from market participants is due to the Biden administration laying out its plan for a huge capital gains tax, which would be more than double that of the current capital gains tax rate.
Investors are clearly spooked, and we have seen the cryptocurrency market react to the news over the last twenty-four hours. It is thought that digital asset holders are booking profits now ahead of the big capital gains tax increase.
Getting back to the solid EU data, the eurozone manufacturing PMI increased to a fresh record high of 63.3 in April, which outpaced March's 62.5 print. This was the tenth straight month of manufacturing growth in the eurozone.
Surprisingly, the pace of growth is at its strongest in over two decades, despite COVID-19, with Germany leading the way as its factory activity showed a serious upturn.
Record levels of factory output and new orders also helped the French PMI print, and input cost inflation also accelerated to a new decade high. Services data from Germany and France was less impressive.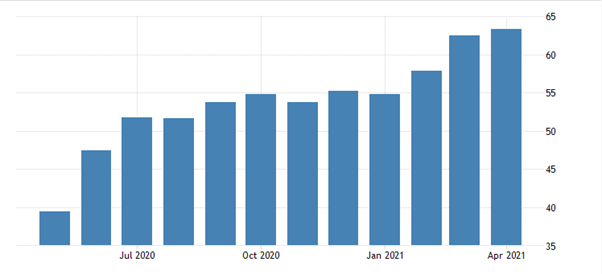 Over in the United Kingdom more expansion in the manufacturing PMI was seen as the march manufacturing print showed an increase to 60.7 in April, which outpaced the previous months reading of 58.9.
The reading pointed to the strongest factory growth in the United Kingdom economy since 1994. Increased output, a strong rise in new orders, and a significant uptick in the length of suppliers deliver times all contributed to the above 60.0 PMI number.
Some of the most interesting trades right now heading into the US session are the Japanese yen and copper. Both are starting to break out. Copper is benefitting from more demand towards the yellow-metal and is probing towards the multi-year high, around $437.00.
The Japanese yen is also firming on the currency market with the USDJPY driving the action. Yen strength is prevalent across the market right now and could accelerate if the USDJPY pair starts to gain traction below the 107.90 level.