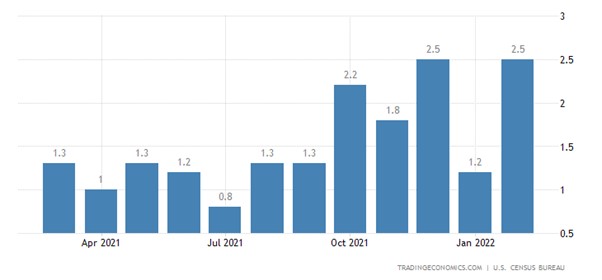 US loans and leases, as well as commercial and industrial loans, are higher this month than they have been since mid-2021. Lending has increased, and companies have restocked their inventories. In February, wholesale inventories increased by 2.5% compared with last month's revised figure to $818.2 billion. Inventory levels for merchant wholesalers rose 19.9% compared to February 2021. The inventory to sales ratio for merchant wholesalers was 1.21, down from 1.27 a year ago.
With the cost of credit rising for the consumer, worries around persistent higher inflation and of course the cost of energy, consumers could start withdrawing and not be willing to accept these higher prices. What we need to keep an eye on to see whether these inventories can keep supporting the dollar is whether consumer sentiment reverses its downtrend, whether the factory and manufacturing data including new orders keeps growing and if the manufacturers can keep passing on the higher prices. With rising inventories companies are going to probably purchase less until inventories are depleted.
I had a feeling that the selling pressure at the psychological level of $100 would be strong. However, this is not the bears getting involved. This is the bulls' taking profits. Some of these traders would have been in since 2021 when the US dollar was trading $90 and after the grind sideways through March the relief of hitting a profit target has been realised. Whether this is a blow-off top, time will tell. A deep retrace down to the $98.440 would be healthy as if it held that would solidify the support for a bigger push higher. A break of $97.705 and the bears would be ready to sell the rips from then on. 64% of traders on the ActivTrader platform are shorting the dollar, so there is still a high probability chance of a new higher high next week, or until these traders turn neutral/bullish.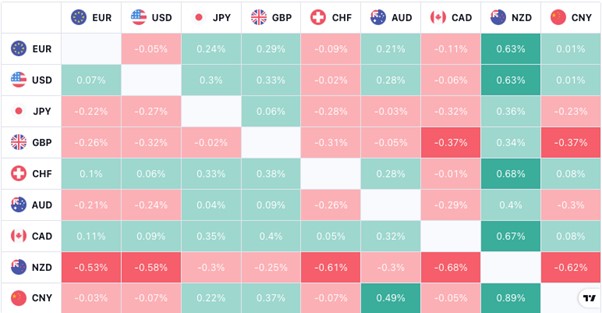 The forex heatmap is still not showing a clear direction though following the Canadian employment data the CAD is the current strongest currency relative to the others. The unemployment rate came in as expected at 5.3% for March. Brent and WTI are essentially flat for the day with Brent trading within the H4 range that I mentioned this morning. $101.67 is currently acting as resistance with the $98.50 acting as support for Brent. A report from OPEC+ stated that they are 1.48mln barrels per day below the March target, which could lead to a tightening market.