During the upcoming trading week, the economic calendar is heavily dominated by the United States, as the world's largest economy releases inflation, retail sales, and consumer sentiment data. This week's data set takes on extra importance after last week's ultra-soft monthly jobs report.
Other key highlights on the economic docket this week include the release of United Kingdom jobs data, at a time when the Bank of England is warning that a rate hike could be coming.
This week will also see the release of monthly jobs data from Australia economy, a Eurogroup meeting, and the release of the FOMC meeting minutes. The FOMC minutes could be a big deal, as traders await to see the central banks thoughts on tapering QE after the September policy meeting.
US CPI Inflation
The Consumer Price Index for the month of September is expected to show that inflation rose at a moderate 0.2 percent last month, which would be welcomed change from recent high CPI readings.
Last month Monthly inflation rate in the US eased to 0.3% in August of 2021 from 0.5% in July, the lowest in seven months and better than forecasts of 0.4%. Prices of airline fares used cars and trucks. Excluding food and energy, prices edged up 0.1%, the smallest gain since February
A red, hot inflation number would likely see the US central bank thinking hard about raising rates, although the Federal Reserve would struggle to pass this through in a low growth and weakening jobs environment.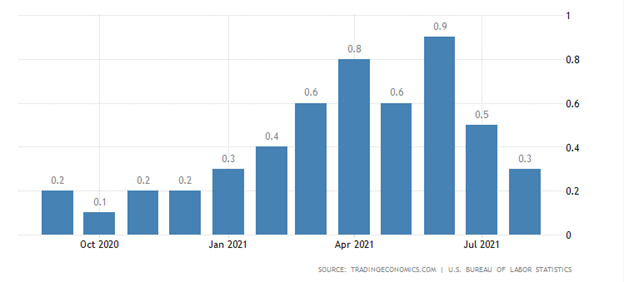 US Retail Sales
Retail sales data is also set for release this week, with most economists expecting a -0.2 headline number. The market reaction is unlikely to be a big one unless we see a big miss here.
Last month US retail trade Retail sales in the US unexpectedly rose 0.7% mom in August of 2021, following an upwardly revised 1.8% fall in July, and beating market forecasts of a 0.8% drop.
Sales rose the most for non–store retailers, such as general merchandise stores and food and beverages stores. Sales also went up for miscellaneous stores, building material & garden equipment, gasoline stations, and health.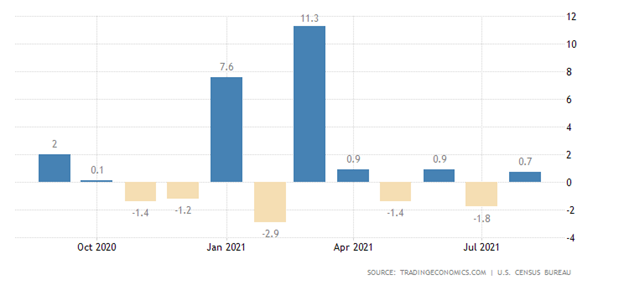 US Sentiment Data
The Michigan Sentiment release has been a big deal for market lately because what the US consumer thinks of the economy and rising inflation has a big effect on whether traders and investors think consumption is strong or weak. Watch out for another big market reaction.
Consumer sentiment for the US was revised higher to 72.8 in September of 2021 from a preliminary of 71 and above August's 70.3. The current conditions gauge climbed to 80.1, above a preliminary of 77.1 and up from 78.5 last month. Expectations were revised higher to 68.1 from 67.1 and compared to August's 65.1.
Surveys of Consumers chief economist, Richard Curtin. noted "Consumer sentiment edged upward in late September, although the overall gain still meant the continuation of depressed optimism, initially sparked by the Delta variant and supported by persistent inflation and unfavourable long-term prospects for the national economy."