Market Update
The main market mover this morning has been the Nikkei 225 index as positive tones spread through the Asian session. Financial markets are once again focusing on the prospect of the massive United States $1.9 trillion stimulus package being rolled-out sooner rather than later.
The Nikkei 225 index is up +2.5 percent intraday and is now trading at its highest level in over thirty years. The bullish tones coming from Asia have also spread over in the futures markets, with the Nasdaq, S&P 500, and DJIA all trading higher pre-open.
Market sentiment has seen a strong turned turnaround this morning, following a slew of negative headlines over the weekend about the lack of vaccine efficacy against the new COVID-19 strain coming from South African, which threatened to dampen market spirits on Monday.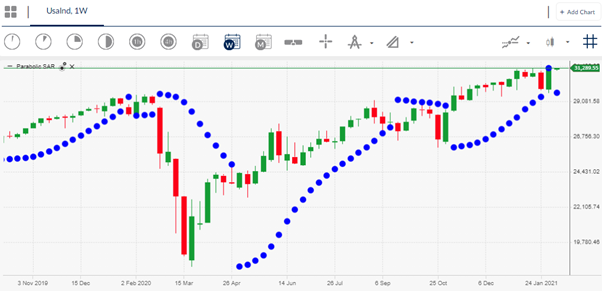 Reports over the weekend suggested that the Oxford/AstraZeneca vaccine is ineffective against the new South African variant. This negative news development has been fully swept aside, although do not be surprised if financial markets revisit this worrying development later this week.
US Treasury Secretary Janet Yellen has been speaking over the weekend, following an interview with CNCB. The main takeaway is that Chair Yellen offered a hint of optimism as she noted that US rates could be raised sooner-than-expected if the $1.9 trillion stimulus package is quickly approved by Congress.
Yellen also said that the US could return to full employment in 2022 and noted "We have people suffering, particularly low-wage workers and minorities and through absolutely no fault of their own. We have to get them to the other side and make sure this does not take a permanent toll on their lives. So, we need a package that is big enough to address this full range of needs".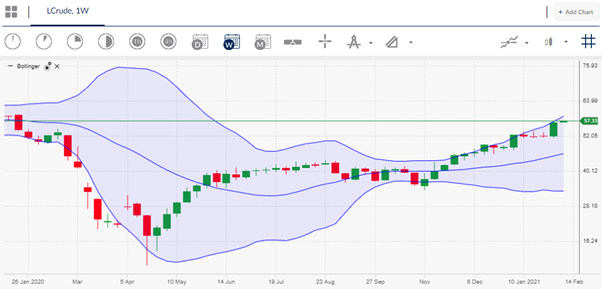 Both WTI and Brent oil are on track for a sixth-straight day of gains this morning and are both trading around one percent higher intraday. Natural Gas is also in the green for the day and is trading higher by around +1.20 percent.
Gold is trading down by around $3 this morning as traders remain cautious towards the yellow metal, while silver is doing better and has regained the $27.00 level after last week major price plunge from $30.00.
The Foreign exchange market is notably quiet this morning as traders digest Friday's Non-farm payrolls job report. I would expect the US dollar index to range trade until Wednesday's big CPI inflation release.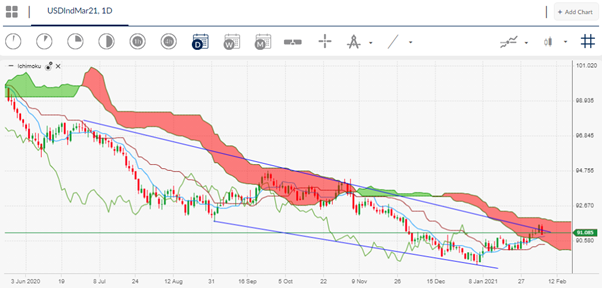 Upcoming News
The economic calendar is notably light today, with the SENTIX investor sentiment survey headlining the EU session. A shorter-dated bond auction from the US treasury market headlines the economic docket in the US session.
Former US President Donald Trump's impeachment trial is probably going to be catching the headlines later today, although US stimulus chatter is likely to be the big market mover this week.
Earnings season in the United States takes a pause on Monday. However, stock trader still has plenty to look forward to this week as CISCO, Coca Cola, GM, UBER, MGM, NVIDIA, AIG, and Walt Disney all are all set to release company results.