I am currently waiting for the EURJPY to dip back to the 133.00 level to test the range breakout, but I have a feeling this is not going to happen today. So, as we approach a new month, I may have to look for intraday continuation trades. This potential strategy comes after this morning's Bank of Japan's (BoJ) statement, as the sharp yen sell-off has been caused by the BoJ's commitment to be maintaining the loose monetary policy. The BoJ reiterated at its latest policy meeting that they remain committed to current yield curve control (YCC) policy settings by setting the yield target for the 10-year JGB at around 0.00% and allowing it to fluctuate within a +/- 0.25 band. For the BoJ to stop the 10-year yield from breaking above the top of the target band, it says it'll purchase 10-year bonds every day at 0.25%, unless there's a high chance that no bids are submitted. It's the strongest sign the BoJ will keep capping Japanese yields even if yields in other countries continue to rise. There's room for yield spreads between Japan and the rest of the world to rise against the yen, which is already encouraging more yen weakness in this morning's London session.
The ActivTrader sentiment indicator shows that the traders on the platform are looking for the euro to depreciate further against the yen, most probably due to the current technical in the EURUSD dropping and because of the situation in Ukraine escalating energy and economic concerns.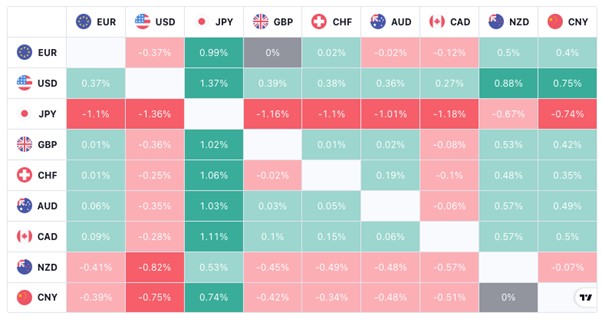 The forex heatmap clearly shows the yen as the weakest currency in this session with the euro gaining against some other currencies. Both central banks involved directly with the EURJPY have a loose monetary policy currently, but the ECB is seeing inflation run hotter for longer and will have to adjust their policy sooner, rather than later. This will accelerate the EURJPY higher, as we saw in the USDJPY.
The Vice President of the ECB released a statement this morning after the ECB release of economic bulletin. The themes were typically around Ukraine and Russia, and energy. As factors in "complicating the outlook for growth and inflation". "Changes to our key interest rates will follow sometime after the end of our net purchases and be gradual."
My base-case scenario is for the EURJPY to rise and seeing the m30 chart price action get back above the 200-period moving average (yellow) is encouraging. I am going to wait however for the uptrend to develop and then for a significant pullback to occur as signified by the Bollinger Band %B indicator as we saw back on the 15th of April.