Equity markets were mixed during the Asian trading session but since the European open global markets are moving back into positive territory. The UK FTSE 100 tails the Australian stock exchange by 1.10% and 1.94% respectively. The Nasdaq in the Globex session is propping up the rest with a dip down by -0.81%. With a move above the 7334 and previous swing high there has now been a shift in market structure. What is needed for the bulls to take control is for a positive close above this level.
US Treasury yields edged lower after rising in the last two sessions and the US dollar index is still trading within the range from the 16th of June.
This week has started quietly as we await tomorrow's policy forum at which the ECB, the US Federal Reserve, and the Bank of England will discuss the trade-off between high inflation and weak growth prospects. During this morning's session, ECB President Lagarde will give an opening speech, which will be followed by sessions by ECB Chief Economist Lane on 'Globalisation and Labour Markets in the Post-Pandemic Economy' and 'Energy price volatility and energy sources in Europe'.
In this afternoon's session, the US will release the goods trade balance and the Conference Board's consumer confidence measure. Trade deficits led to Q1 GDP contraction, which is also revised for the final time tomorrow. May's goods deficit is expected to narrow for the second consecutive month, and this bodes well for second-quarter US GDP growth. 2 consecutive quarters of negative growth is classed as a recession.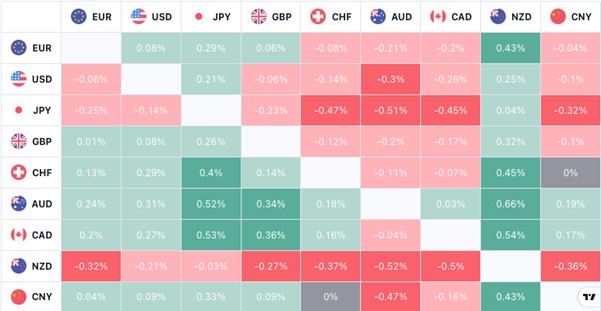 Today's London session opened with a more positive tone towards equities and commodity prices and looking at the heatmap the forex pairs are aligning for more risk-on. The NZD is battling for the weakest currency with yen and US dollar, but we could see that reverse of the Aussie and CAD are bid today. The catalyst for a positive day may be the US trade deficit and then expectations of a revision higher in US GDP.
The EURJPY has led the way with a positive move towards breaking out above the 144.00 level this morning, as the GBPJPY and USDJPY are positive but still nearer to their recent swing lows. A breakout in the EURJPY on this daily chart would lead to further gains into 145.50-146.00 and the next weekly lows from 2014.
The move higher in the euro against the yen comes on the back of some negative European data this morning. In July, consumer confidence in Germany declined 1.2 points, coming in at -27.4 points, according to market research institute GfK. The July figure represents an all-time low. The Bank of Japan had released their latest Core CPI figures which YoY came in as expected at 1.5%.