The Ger30 has rallied to a fresh all-time trading high as European traders cheer the prospect of upcoming US stimulus and the announcement from Deutsche Bank surrounding a buyback program.
Following weeks of consolidation and sideways trading action around the 14,000 area, the index finally broke higher. Traders and investors pondered whether the index had the gas in the tank rally to a new all-time high, and now the move higher has taken place, bulls have answered the call to action.
The recent US stimulus announcement and the news that Deutsche Bank will be launching a share buyback program of over $1 billion and a dividend program, ahead of the release of its 2020 results, answered those doubt, and helped propelled the index towards the 14,600 level.
European bourses have been gaining traction over recent weeks as investors move out of the top tech heavyweights in the United States and look for value stocks abroad, largely found in the eurozone retail, banking, and energy sectors.
An extremely large bullish price pattern has now been lit-up, following the breach of the former all-time high, just below the 14,200 level. With the German DAX approaching a 400-point weekly gain, the up move could just be getting warmed up.
The notion that the United States consumer will soon be getting $1,400 stimulus checks is being seen as bullish for the German Manufacturing sector. Quality goods and hardware from the top eurozone manufacturer could be in high demand.
Additionally, the recent pullback in the euro currency against the British pound and the US dollar is seen as being a boon for the European economy, and specifically German manufacturers. The upcoming ECB meeting will also be another big event for the euro currency and the German DAX.

The ActivTarder Market sentiment tool currently shows that GER30 traders are slightly bearish, with some 57 percent of market participants holding a negative bias towards the leading German index. Expect further losses in the index if sentiment worsens and the GER30 continues to hold onto its gains and heads higher.
GER30 Short-Term Technical Analysis
The four-hour time frame shows that a large head and shoulders pattern has recently been activated, following the recent advance above the 14,200-resistance level.
According to technical analysis, the measured upside target of the inverted head of the pattern is found around the 14,800 level. This could mean that the index could continue to rally by a further 220 points from current levels.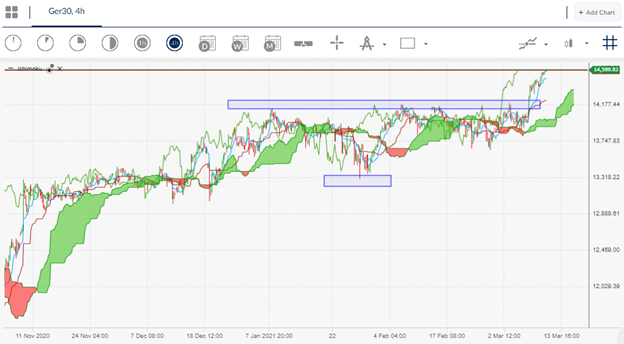 GER30 Medium-Term Technical Analysis
Looking at the daily time chart, the breakout to new all-time high has further triggered an extremely large, inverted head and shoulders pattern on the daily, weekly, and monthly time frames.
The overall size of the bullish price pattern is suggesting that the long-term target for the GER30 is 18,500. However, an overextension towards the 19,000-resistance level is also possible.