The British pound currency is starting to look comfy above the 1.4000 level against the US dollar, following an early-week bout of weakness in the greenback and bullish news about the United Kingdom potentially exiting the ongoing COVID-19 lockdown.
Starting with the lockdown news. British PM Boris Johnson announced that COVID-19 cases had dropped by 70 percent in twenty-one days since the government started to issue and make available the Pfizer jabs.
Details of the way out of the UK lockdown were also forthcoming. PM Johnson laid out that UK schools would be reopening in March, with a tiered approach to bringing some of the draconian restrictions to an end by April and also the summer.
PM Johnson also asked for people to work from home until June. This may have been longer than the market was expecting. However, British pound traders did not react to this negative news and focused on the positives.
Sterling is now trading at levels not seen since April 2018 and is in the midst of a powerful technical breakout. On the fundamental side the British pound does have some risk events to watch out for this week.
UK jobs and wage data, and a key testimony from Federal Reserve Chair Jerome Powell all have the ability to either accelerate or derail the latest move above the 1.4000 handle. The moves in the S&P 500 and the US bond market could also cause the upside in the pair to slow or accelerate this week.                            
According to the ActivTrades Market Sentiment tool traders are still heavily bearish towards the GBPUSD pair. Traders remain short and on the wrong side of the market as the GBPUSD pair advances above the 1.4000 handle.

GBPUSD Short-term Technical Analysis
Looking at the four-hour time frame, technical analysis clearly shows that a major technical breakout has taken place from a rising price channel. The top of the channel is located around the psychological 1.4000 resistance level.
According to the overall size of the channel an advance of at least one-hundred and fifty points should be expected, bringing the GBPUSD pair towards the 1.4150 area. The 1.4200 and 1.4300 levels could also be hit.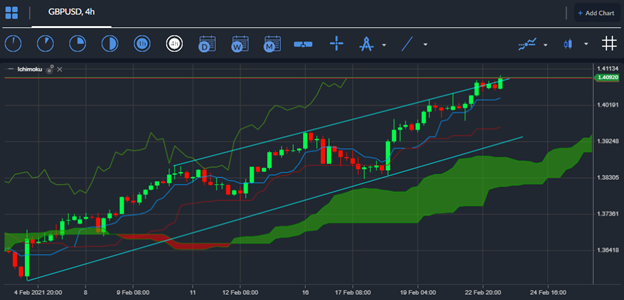 GBPUSD Medium-term Technical Analysis
According to the daily time frame a massive, inverted head and shoulders pattern is in play, which holds a 2,000-point upside projection. This may seem a distant reality, but the British pound is breakout out sharply at the moment and the pattern cannot be overlooked.
This pattern has been developing over recent weeks and months, and as I have previously mentioned bears need to be extremely careful shorting the GBPUSD pair.
Buying dips on the daily time frame would appears the best strategy given the overall power of the ongoing bullish price trend.