The German Producer Prices Index increased 7.2% year-on-year in May of 2021, which is the strongest growth since the GFC. The data came in much better than analysts' expectations and beating April's 1.5% move higher. The cost of energy is up 14.9% on a yearly basis and increased by 2.6% from the prior month. Prices of durable consumer goods were 1.7% and 0.1% higher compared to May 2020 and April 2021 respectively.
Japan Holds Rates, Extends Pandemic-Relief Scheme
Bank of Japan (BoJ) Governor Haruhiko Kuroda asserted on Friday that the COVID-19 pandemic still has a "big negative" impact on the economy of Japan, adding that it will take more time for its effects to subside.
The Bank of Japan left its key short-term interest rate unchanged at -0.1% and maintained the target for the 10-year Japanese government bond yield at around 0% during its June meeting by a 7-1 vote. The central bank also extended by six months the September deadline for its pandemic-relief scheme. At the same time, policymakers said that it will launch a new program to provide funds to financial institutions that invest or extend loans in relation with climate change issues.
UK Retail Sales Unexpectedly Fall in May
Retail sales in the United Kingdom declined by 1.4 percent from a month earlier in May 2021, following a 9.2 percent increase in April.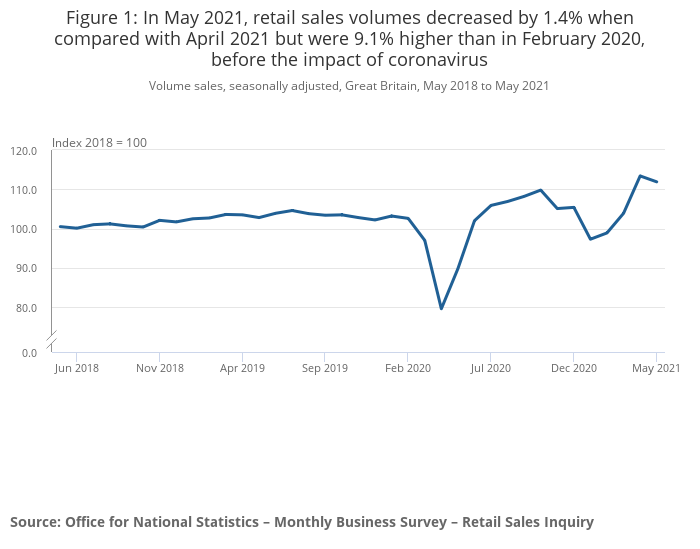 Retail sales volumes declined by 1.4% between April and May 2021 following a sharp increase in April when retail restrictions were eased; despite the monthly decline, over April and May combined, average total retail sales volumes were still 7.7% higher than in March 2021 and were 9.1% higher than in February 2020 before the impact of the coronavirus (COVID-19) pandemic.
The largest contribution to the monthly decline in May 2021 came from food stores where sales volumes fell by 5.7%; anecdotal evidence suggests the easing of hospitality restrictions had had an impact on sales as people returned to eating and drinking at locations such as restaurants and bars.
The quantity of goods bought in retail sales in the United Kingdom in May decreased 1.4% compared to the previous month, the Office for National Statistics reported on Friday. The figure was below analysts' expectations.
The largest negative contribution came from food stores where sales dropped by 5.7% on a monthly basis. However, retail sales were still up 9.1% from February 2020, before the coronavirus pandemic started. On an annual basis, retail sales surged 24.6% from May 2020.
Online sales fell 5.7% month on month but were up 2% year on year. Online sales as a proportion of all sales declined to 28.5%.
The US Dollar Index traded at 9-week highs of 91.852 in early trade Friday, following a post-FOMC breakout which fuelled a rally to fresh multi-month highs as the US Federal Reserve policymakers flagged two rate increases by the end of 2023, with Jerome Powell also noting that the discussion about scaling back bond purchases will likely start soon.