The forex heatmap is not giving a clear risk-on/off signal with the British pound coming in the weakest and the euro as the strongest. Commodity pairs are mixed with strength in the NZD following through from this morning's CPI data release. The CNY is also picking up after industrial data came in worse, but retail sales were okay.
US industrial production declined 1.3% month-over-month in September, falling below market expectations. On an annual basis, the total index rose 4.6%. The manufacturing output in September was down 0.7% from the previous month but was up 5.8% on an annual basis. Vehicle and part production fell 7.2%, while semiconductor shortages continue to slow operations.
At the London close the US dollar was little changed for the day and remains withing the last couple of weeks trading range. There are talks around the US budget which may give the DXY some direction and a stronger euro will also add some pressure to the dollar index.
China's industrial production rose by 3.1% in September compared to the same month in 2020 and lower than the expected 3.8%, according to a report published earlier today by the National Bureau of Statistics of China.
Oil is in a very strong uptrend and while it remains at near 7-year highs the move today was weaker and a bearish signal if we see a close below yesterday's low. Today's price action had looked like a continuation of the trend but sharply reversed towards the end of the London session. Talks with Iran about their nuclear programme could lead to Iran being allowed to sell oil into the markets having the effect of adding supply. Gas was up around 7.50% again today.
With the scheduled tier-1 news in short supply traders turned their attention to macro themes like house builders. The National Association of Home Builders (NAHB)/Wells Fargo Housing Market Index (HMI) rose to 80.0 in October, exceeding analysts' expectations. Although demand and home sales remain strong, builders continue to grapple with ongoing supply chain disruptions and labour shortages that are delaying completion times and putting upward pressure on building material and home prices.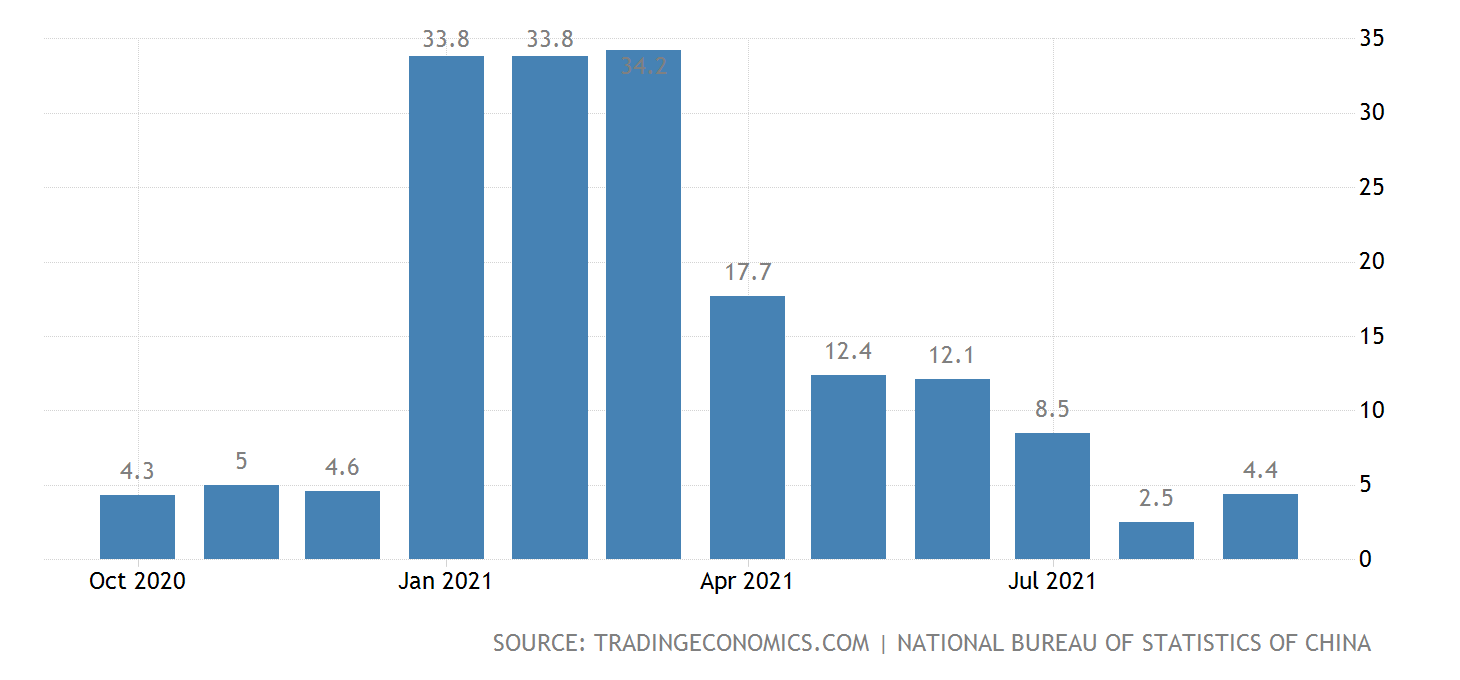 According to the National Bureau of Statistics' release on Monday, retail sales in China increased by 4.4% on a yearly basis in September. This figure was higher than expected at 3.5%. During the first three quarters, online sales grew by 18.5% from September 2020.
The USDJPY has stalled on the USD sideways action and the pick-up in strength of the yen this afternoon. The current level is a major zone of resistance and a break above 114.80 would be a new 2 year high.