The technicals behind Brent crude are intriguing at the moment as the recent breakout rally above $50.00 shows few signs of stopping. News surrounding incoming US stimulus has been bullish for Brent crude oil, as traders factor in improved economic activity in the United States over the coming months.
Traders also have to factor in current demand and supply issues. News that the Biden administration will rescind the Keystone pipeline, which is located in the United States and Canada is arguably bullish on the supply side for oil prices.
Additionally, recent news that Saudi Arabia have cut output has been a positive catalyst for oil prices. The ongoing trend of growing global COVID-19 infections prompted the Saudi's to cut output in order to avoid a repeat of 2020 when oil prices collapsed.
A number of investment banks have also made bullish oil price forecasts for 2021, further downplaying fears of any imminent correction in the price of oil. Calls have ranged from $60.00 to $75.00 per barrel in 2021. China is also driving for demand for oil as its economy continues to grow and expand.
Looking at the bearish side for oil, the influential oil agency, the IEA, has recently cut its forecast for oil demand in 2021 as COVID-19 cases continue to surge. The agency note that recent theme of global lockdowns will keep a lid on oil demand.
On the technical side, a number of bearish divergences have formed for Brent crude oil, while a notable upside target of a bullish price pattern has been reached this week. While this is no guarantee of a price correction, it is certainly noteworthy.
Furthermore, market sentiment towards Brent Crude is bullish, and around multi-months high in terms of sentiment. The ActivTrader Market Sentiment tool shows that some 62 percent of traders are bullish towards further gains in Brent oil.

Brent Crude Oil Short-Term Technical Analysis
According to the four-hour time frame a bearish head and shoulders pattern has started to form and remains valid while price is capped below the $57.35 level. Trader shave two clear strategies here.
Bulls may go with the prevailing trend and wait for a breakout above $57.35, which would invalidate the bearish price pattern, and potential start a further $3.00 rally.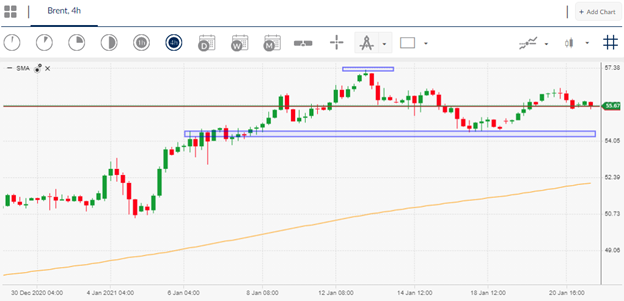 Bears could wait for a decline below the neckline of the pattern, around $54.40, in expectation of a $3.00 breakout to the downside.
The momentum indicator is also showing notable amounts of bearish price divergence since $44.00. The momentum indicator failed to rise with price as the rally took hold. This could be a concern if a strong pullback took hold.
Brent Crude Medium-Term Technical Analysis
Looking at the daily time chart, a large bullish reversal pattern has now reached its overall upside target of $57.00. With the absence of any new bullish pattern a key long-term trendline, around $60.00 is now taking focus.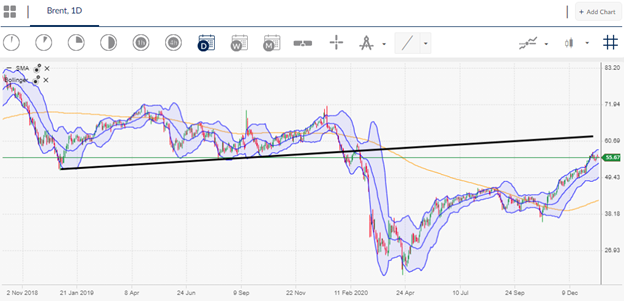 A breakout above this area would be huge for Brent oil, although we are still some distance from this key trendline. If we do reach the trendline, I would expect a big market reaction in Brent, especially if it bulls break the trendline.
The RSI on the daily time frame is extremely overbought, so this may mean a correction is imminent. It just remains to be seen when, and indeed how deep a correction will be.