Market Update
A surprise hike here from the Bank of England has sent the British pound surging on the foreign exchange market, with the GBPUSD pair touching a new monthly high around the 1.3380 level.
It appears that Omicron fears were not enough to keep the Bank of England on the side lines, and it could be a wise move in order to move to normalisation in case inflation fears become more pronounced.
According to the official BoE policy statement the recent rise in wages this week is big a concern to the BoE. According to the voting, the central bank voted 8-1 in favour of a hike, with only policy member Tenreyo dissenting.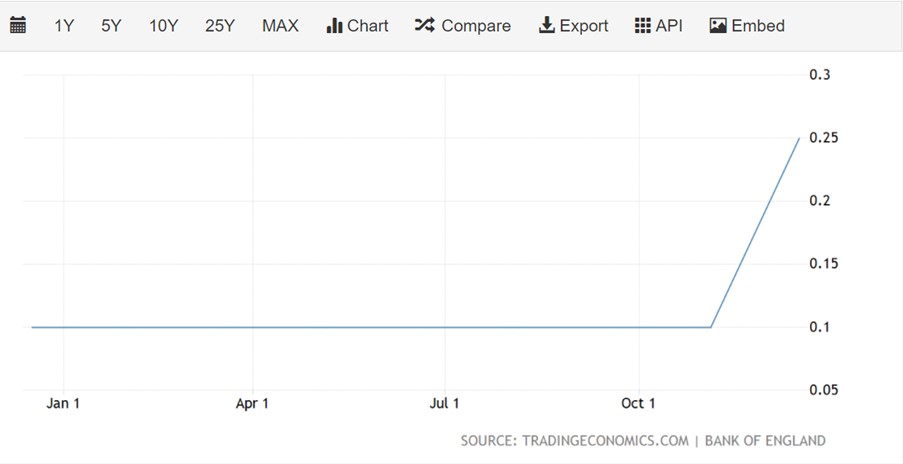 The statement read "'Bank staff continue to estimate that underlying earnings growth has remained above pre-pandemic rates, and the Committee continues to see upside risks around the projection for pay in the November Report'.
It terms of QE, Gilt purchases were seen at £875, while corporate bond purchases at £30 billion, keeping the total asset purchases program for the Bank of England at some £895 billion.
So far, we also know that the European Central Bank have kept all main metrics expected and to be unchanged, according to the official rate announcement, ahead of today's press conference.
The ECB decided to keep the deposit facility at 0.50 percent, and the main refinancing rate at 0.00 percent, while the marginal lending facility is kept at 0.25 percent. The PEPP envelope is kept at $1 trillion, and APP will continue at a monthly pace of euro 20 billion and then strengthen to euro 40 billion in the second quarter of Q2.
What we now have is a clear divergence between central banks of the eurozone and the Bank of England. This could help EURGBP move lower into the year-end, and probably well into 2022.
Day Ahead
During the US session the economic calendar will be busy as we see Manufacturing data from the United States as well as jobs and housing and also how US equity markets will react to the FED taper news.
Omicron news will of course be important to watch, as ever, with particular focus on the UK as restrictions are likely to be tightened, which could eventually hurt some of the bullish sentiment from the rate hike.