Aujourd'hui, le comité de politique monétaire de la Reserve Bank of Australia (RBA) a décidé d'augmenter ses taux de manière plus importante que ce qu'avaient anticipé les investisseurs. La RBA a en effet adopté une hausse de 50 points de base pour porter les taux à 85 points de base contre 35 points de base auparavant. De plus, la normalisation de la politique monétaire australienne devrait se poursuivre cette année avec d'autres hausses de taux à venir.
L'inflation toujours au coeur de l'attention
En Australie, l'inflation est moins importante que dans d'autres grandes économies occidentales. Cependant, elle est bien au-dessus de l'objectif des 2 % de la RBA, puisqu'elle atteint plus de 5 %. Elle a même atteint un niveau jamais vu depuis 20 ans !
La guerre en Ukraine et les perturbations des chaînes d'approvisionnement liées à l'épidémie de COVID-19 sont les facteurs mondiaux cités par la RBA. Mais il existe aussi des facteurs internes et spécifiques à l'Australie qui soutiennent la hausse des prix dans le pays comme un marché du travail tendu dans certains secteurs d'activité ou les inondations du début d'année.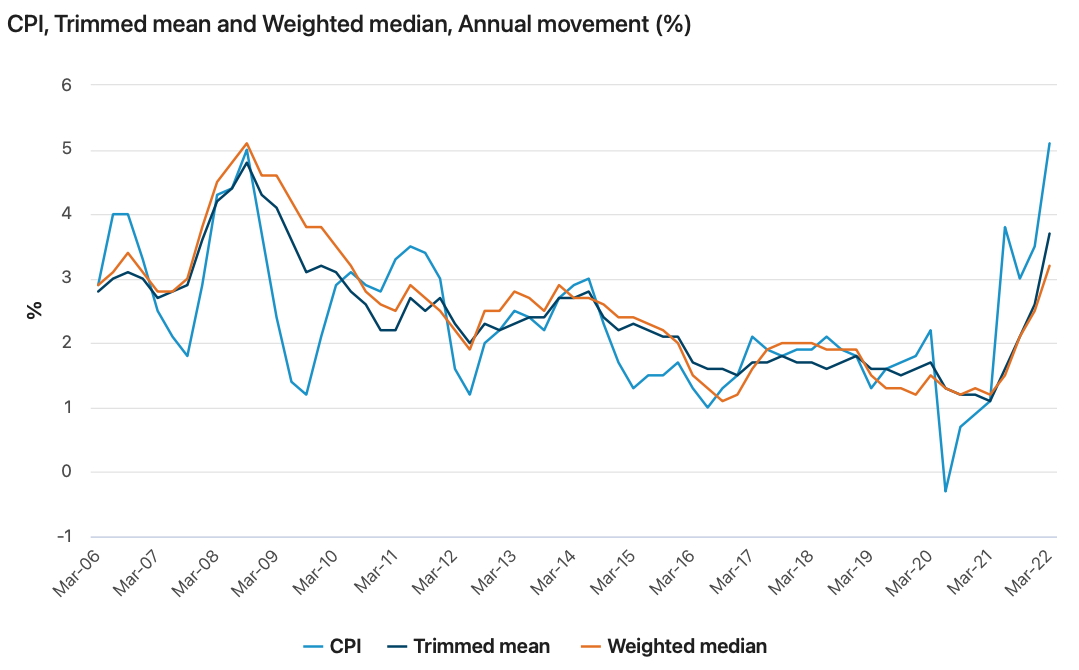 Source : Australian Bureau of Statistics
L'AUD/USD a effacé les gains enregistrés après l'annonce de la RBA
Alors que la paire Forex AUD/USD avait initialement augmenté à 0,72472 avec l'annonce d'une hausse des taux plus importante que celle anticipée par les marchés, elle évolue dans le rouge autour des 0.7178 au moment de la rédaction de cet article. Les investisseurs d'ActivTrades sont plutôt pessimistes sur la paire, puisque 63 % des traders sont vendeurs contre seulement 37 % d'acheteurs (voir le sentiment sur l'AUD/USD sur la gauche du graphique).
Aller plus loin
Cela pourrait aussi vous intéresser…